Be sure to Click LIKE at the bottom of this article, and share it everywhere!!
By Craig Andresen – Right Side Patriots on American Political Radio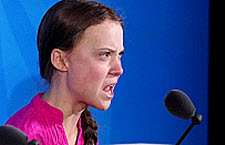 Shakespeare once said, "All the world's a stage," and last week, at the center of it, was a 16 year old untamed shrew.
A shrew, by definition is 1. a small insectivorous mammal resembling a mouse, with a long pointed snout and tiny eyes, and 2. a bad-tempered or aggressively assertive woman.
Swedish teenage climate change cultist (CCC) Greta Thunberg I suggest meets both of those definitions to a tee, and a week ago, while skipping school, she stood before the U.N. and pitched a hissy-fit of a temper tantrum for all the world to see.
"You have stolen my dreams and my childhood with your empty words," Thunberg bloviated at a U.N. climate change summit. She ranted, and raved at the adults in the room most of whom are also members of the CCC, and found her…adorable.
Thunberg shouted at the U.N. members…