By Craig Andresen – The National Patriot and Right Side Patriots on cprworldwidemedia.net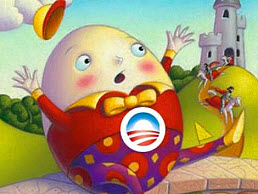 Humpty Dumpty sits on a wall,
Humpty Dumpty is about to fall.
All the king's horses and all the king's men
Can never put Humpty together again.
Humpty in this case is Obamacare and at the end of next month, the United States Supreme Court will render a decision that could well leave Humpty Dumpty shattered into 8 million pieces.
At stake are the subsidies. Should the Supreme Court hold that the subsidies are allowed only as the law was written…that ONLY the STATE exchanges are allowed to extend subsidies and NOT the FEDERAL exchange…8 million people who received subsidies from the federal exchange per the king's executive order and not via an act of the congress…would LOSE those taxpayer subsidies thus making the "AFFORDABLE" Care Act UNaffordable to them.
If they can't afford the cost of full-on socialism…they will drop OUT of the socialist healthcare program leaving the pool of other people's money too shallow to draw from for the rest. Oh, there are options…everybody ELSE'S premium costs, deductibles and prescription costs could be jacked up into outer space to cover the shortfall but that will render socialismcare unaffordable even to those who can, but just barely, afford it now and they TOO will beat a hasty exit.
I believe the Supreme Court will indeed rule against the king on this one and here's why…