Be sure to Click LIKE at the bottom of this article, and share it everywhere!!
By Craig Andresen – Right Side Patriots on American Political Radio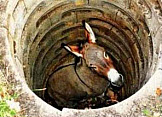 Over the past couple of weeks, liberals have dug themselves quite a hole. Prevailing wisdom offers this bit of sage advice…when you find yourself at the bottom of a deep hole…
Stop digging.
Liberals, being liberals simply got themselves a bigger shovel.
I won't get into the whole mess concerning that obtuse "resolution" passed in the House last week regarding hate speech while completely ignoring Ilhan Omar from whose islamist lips the statements came that started the whole thing because my RIGHT SIDE PATRIOTS partner Diane Sori has covered that extremely well in her latest op-ed, "A Resolution and a Truth Many Find Offensive…Part 1" which you can read by clicking here.
In other words…rather than dealing with the pile of dirt liberals left beside the hole that they're digging, I am choosing to deal with the hole itself.
While it has been said that a rose by any other name is still a rose…the hole at which liberals find themselves at the bottom of today…by another name is…