By Craig Andresen Right Side Patriots http://www.americanpbn.com/
Ted Cruz won two states in the March 5th showdowns. Donald Trump won two states in the March 5th showd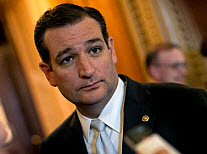 owns. Trump's camp is happy to say they won as many states last Saturday as did Cruz but that doesn't really tell the whole story, does it?
Cruz won 68 delegates last Saturday. Trump only won 53 delegates that night and that's a lot more telling than the two to two tie isn't it?
But even that doesn't tell the full story.
Trump under-performed in Louisiana. In polls leading up to that state's primary, Trump held a double digit lead. It was supposed to be an easy win for Trump and while he did win that state…he only beat Cruz by less than four points. It was close. It was a whole lot closer than Trump wanted it to be and a whole lot closer than Trump thought it would be.
Trump also won Kentucky, but in polls there, before the March 5th caucus, Trump also enjoyed a double digit lead over Ted Cruz by a margin of 35-15 according to RealClear Politics. That was a 20 point lead but on caucus night, Trump barely managed to win by 35.9 to Cruz's 31.6…a difference of only 4.3 percent.
Interesting, but there's more to be told before we can accurately see the big picture here.