By Craig Andresen Right Side Patriots http://www.americanpbn.com/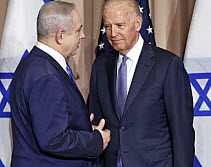 Israeli Prime Minister, Benjamin Netanyahu had nothing to gain from coming to Washington to meet with Obama and he knew it. That is why Netanyahu cancelled the trip and the meeting. He knows that Obama is all in for the Palestinians, all in for Islamists and all in for the Muslim Brotherhood, which is, part and parcel…Hamas.
Attacks against Israel, by the Palestinians, have been a daily happening since last October because the Palestinians have nothing to fear from their ally…Obama…and they have zero respect for the United States as a whole.
Yesterday, across Israel, the pigs of Palestine struck again, and again, and again… 10 Israelis were stabbed in the city's Jaffa port section and one American tourist, a veteran, was killed…just a few hundred yards from none other than Joe Biden, who went there to try and mend fences with Netanyahu.
Note to Biden…
One ought not attempt mending fences when the bridges the regime you're a part of are still burning.
In that attack, the Palestinian pig was "neutralized," until he was dead at the hands of Israeli police and armed forces.
It was just one in a string of 3 attacks in 3 different cities a couple of days ago with the Palestinians taking advantage of the pro-Islamist, anti-Israel Obama regime and part of what's been happening in Israel for nearly the past 5 months…attacks which have left 28 Israelis, and some 174 Palestinian pigs…dead.