Be sure to Click LIKE at the bottom of this article, and share it everywhere!!
By Craig Andresen – Right Side Patriots on American Political Radio
Supreme Court Justice, Anthony Kennedy, is set to retire at the end of July, and liberals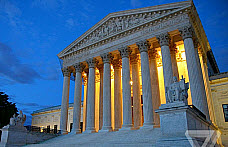 are tying themselves into knots at…not the prospect, but the reality…that President Trump will appoint yet another Justice to the nation's highest court.
Liberals, already desperately searching for even one core value on which to take a stand, on which to build a platform for the 2018 midterm elections as well as for 2020 are now facing the nightmare of all liberal nightmares.
So, what is really at stake for both parties due to the looming Supreme Court nomination, and the resulting firestorm of a confirmation process?
Plenty.
First, on the Conservative side of things…