By Craig Andresen Right Side Patriots http://www.americanpbn.com/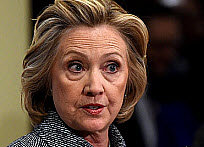 Hillary Clinton must be sweating like a Kardashian on Jeopardy right about now.
Just a couple of days ago, it was revealed that Bryan Pagliano has an immunity deal with the Obama regime's Department of Justice to provide testimony regarding Hillary's private server, private email set up at the Department of State.
This is huge, but before I get into all that, a quick refresher on Pagliano is in order.
Bryan Pagliano is the guy from Platte River Networks who was Hillary's personal IT specialist. Pagliano had worked for Hillary's failed 2008 campaign as its IT Director, who had installed a private server at the Clinton's Chappaqua home and then, in 2009, was hired by Hillary to serve as a "Special Advisor" to her at State where he also became a State Department IT Specialist.
Naturally, while an IT Spec for State, Pagliano also maintained Hillary's private server at her home which was a rather cozy arrangement.
Okay…here's why Hillary is sweating bullets…