By Craig Andresen on June 16, 2014 at 7:59 pm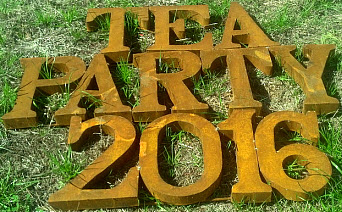 How did things turn out in your state's primary elections this year? Did your Tea Party candidate win? Some did, a few, too few for my liking and most likely for your liking as well.
Why is that? Why didn't we win MORE primaries?
I'll tell you why. Because as Tea Party Patriots and those who want a return to a Constitutional republic, far too many of us stand on our own little individual islands when it comes to candidates and that is exactly what liberals and for that matter, the GOP establishment want us to do.
It's time to change all that and start winning…not only in the primary elections but in the general elections too but what we need is a strategy. A WINNING strategy.
First off…one of the main reasons the Tea Party didn't show well in this year's primaries is right there on our voter registration cards.
Back in 2010, with the decisive victory in the house, the shellacking of the liberals, many went and changed their voter registration to Tea Party based on how proud we were of what we had just accomplished. Pride gets us nowhere and here's why.
In MANY states, when it comes to the primaries, only registered REPUBLICANS can VOTE in the primaries. If you have reregistered as something else…Tea Party…Constitutional Party…Libertarian…whatever…you can't vote in the primary or, if they allow you to CAST a vote…it's wiped out by your 'other' party registration. That being the case, guess who wins…the GOP establishment candidate and NOT the Tea Party candidate.
We must remember that the Tea Party is a MOVEMENT, a grass roots movement…