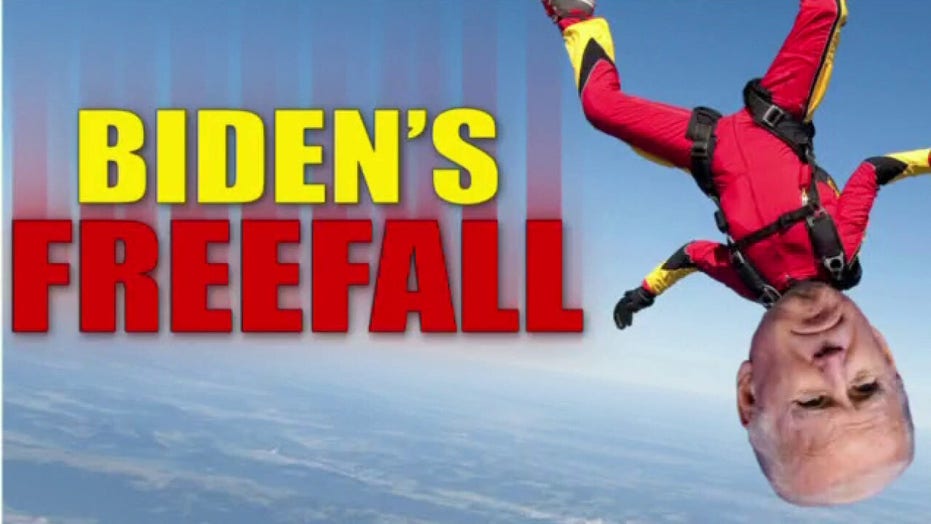 On a quiet street south of downtown Boise, Michael Dick has festooned his front yard with homemade signs, including a large yellow placard that facetiously thanks President Biden for a growing list of grievances — $4-a-gallon gas, inflation, Afghanistan, covid-19. In capital letters in black marker, Dick, 59, recently added "dead civilians" and "dead U.S. soldiers" to his bill of particulars.
On Wednesday, when the president visited Scranton, Pa., he was greeted at the corner of Biden Street by a woman holding a handmade "F--- Joe Biden" sign, with an American flag as the vowel in the offending word. And back in Boise, Rod Johnson, a retired gunsmith, has hung a blue flag from the roof of his home that reads "F--- Biden." Underneath, in smaller letters, he added, "And f--- you for voting for him!!" 
"I'm not the only Republican that doesn't like Biden," Johnson, 68, said in an interview, sporting a red "Proud White American" hat and puffing a skinny cigar. "I just chose to show it."
During the 2020 presidential campaign, one of Biden's political superpowers was his sheer inoffensiveness, the way he often managed to embody — even to those who didn't like him — the innocuous grandfather, the bumbling uncle, the leader who could make America calm, steady, even boring again after four years of Donald Trump.
But it's clear that after nine months in office, Biden — or at least what he represents — is increasingly becoming an object of hatred to many Trump supporters. The vitriol partly reflects Trump's own repeated baseless claims that Biden is a usurper, depriving him of his rightful claim to the presidency, and partly stems from Biden actions that Republicans deplore, from his spending plans to his immigration policies.
Yet the anger also demonstrates how a political party or cause often needs an enemy, a target of vilification that can unite its adherents — and, in this case, one refracted through the harshness, norm-breaking and vulgarity of the Trump era.