Students at hundreds of colleges and universities are being systematically indoctrinated into the "New Civics" of social justice activism, according to a report released this past week by the National Association of Scholars.
The report's findings suggest that the suppression of free speech on college campuses that is making headlines is only the tip of a very large iceberg. What lies beneath the surface is a massive, publicly funded program of indoctrination through a remaking of the curriculum as a vehicle for advancing the political agenda of progressivism.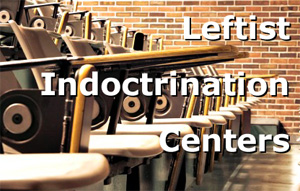 The full NAS report, MAKING CITIZENS: HOW AMERICAN UNIVERSITIES TEACH CIVICS, can be found here.
The "New Civics" can accurately be called indoctrination because it is far more ambitious and open than the left-liberal bias in classroom instruction encountered by students for decades. Yes, 90% of college faculty in the liberal arts and humanities are liberal and progressive, and classroom propaganda is a growing problem, but the "New Civics" has ambitions for transforming the entire institution and all academic disciplines into "change agents."
The "New Civics" is replacing traditional "civic literacy," and it's campus-wide ambitions have the endorsement and support of university administrators. In public institutions like the four cases documented in the MAKING CITIZENS report, it sees no conflict in using taxpayer dollars to accomplish its progressive mission.
If you think this is a marginal or minor problem, look at this week's story, "How Colleges Teach Students to Be Good Citizens," in the January 13 issue of the premier trade publication for the higher education establishment, THE  CHRONICLE OF HIGHER EDUCATION. The establishment is proud of the "New Civics" and hopes it will be "transformative." Also, you can take a gander at the section of the Huffington Post devoted to Civic Engagement, where the goals of social justice indoctrination of students are praised by the pioneers of transformative social values like Ralph Nader.
read more:
http://www.breitbart.com/big-government/2017/01/14/tancredo-report-...