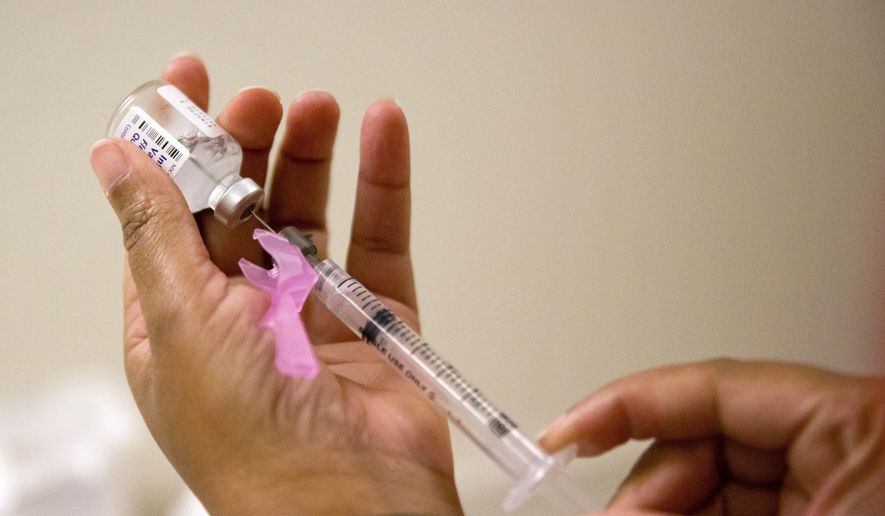 Senate Democrats urged Congress Thursday to approve $1 billion over five years to develop a universal flu vaccine, saying the U.S. spends billions per year, anyway, to combat various strains that kill thousands of people each year.
This year's season has been particularly brutal. The H3N2 strain, in particular, has been resistant to this year's vaccine.
"The flu is a formidable foe," Sen. Ed Markey, Massachusetts Democrat, said. "This year, all signs are pointing to the most severe flu season since the 2009 pandemic.
Mr. Markey and cosponsors of his bill want to funnel $200 million per year to the National Institutes of Health in pursuit of a vaccine that shields recipients against all strains of the vaccine.
Senators said the current vaccine in any given year covers only a few strains and is about 10-60 percent effective.
With the right support, they say, American scientists can do better.
"It's just something that we don't accept in a country that has had so many medical developments," Sen. Amy Klobuchar, Minnesota Democrat, said.
Mr. Markey said that on average, the flu costs the nation $10.4 billion in direct medical costs annually and $87 billion to the economy overall, so a front-end investment is worthwhile.
More than 60 children have died so far this flu season, and one in 10 deaths in the U.S. during the week ending Jan. 20 was related to influenza or pneumonia, which can be sparked by complications from the flu.
The Centers for Disease Control and Prevention says they're not sure if the season has even peaked yet, underscoring the danger.
https://www.washingtontimes.com/news/2018/feb/15/senate-democrats-c...