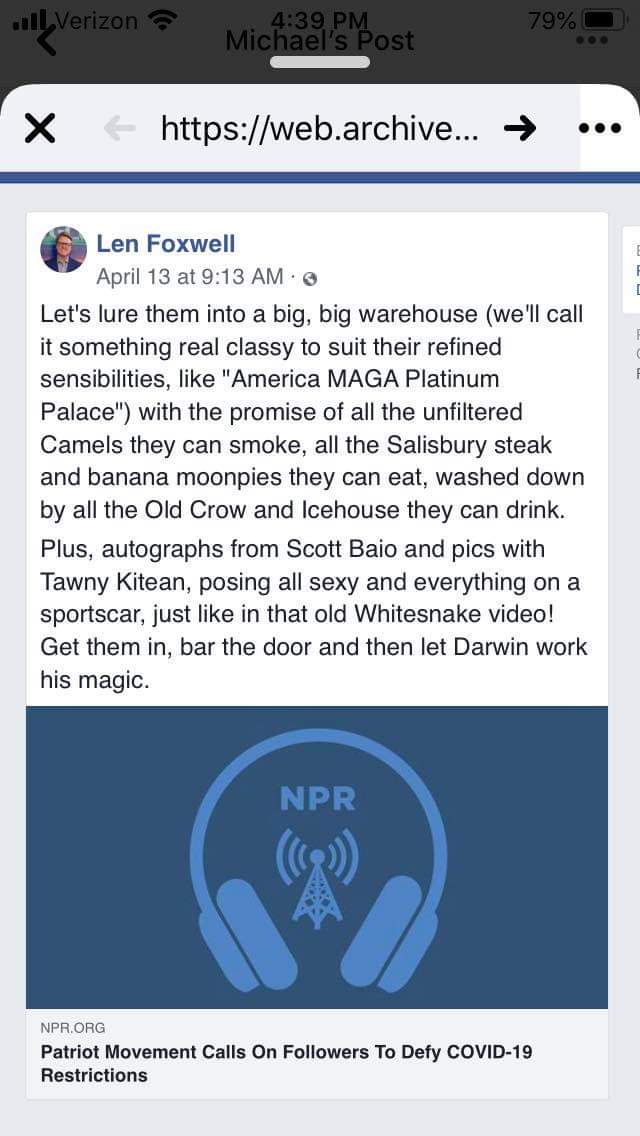 Len Foxwell — chief of staff for Maryland Comptroller Peter Franchot — last Monday on Facebook shared a link to an article about a group called "The Patriot Movement," which called on people to defy coronavirus-related stay-at-home orders, WJZ-TV reported.
The station said Foxwell wrote the following on his post, which has since been taken down:
Let's lure them into a big, big warehouse (we'll call it something real classy to suit their refined sensibilities, like "America MAGA Platinum Palace") with the promise of all the unfiltered Camels they can smoke, all the Salisbury steak and banana moonpies they can eat, washed down by all the Old Crow and Icehouse they can drink.

Plus, autographs from Scott Baio and pics with Tawny Kitean [sic], posing all sexy and everything on a sportscar, just like in that old Whitesnake video! Get them in, bar the door, and then let Darwin work his magic.
read more: https://www.theblaze.com/news/state-official-chief-of-staff-protesters-should-be-lured-into-warehouse-let-darwin-work-his-magic