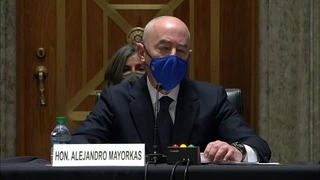 Alejandro Mayorkas, Joe Biden's nominee to lead the Department of Homeland Security, was asked Tuesday what message he wanted to send to the thousands of immigrants traveling in a caravan through Central America in hopes that a new president would welcome them into the United States and turn the page on President Trump's restrictive immigration policies that sought to keep them out.
Changes to Trump's border policies "cannot be accomplished with a flick of a switch on day one," said Mayorkas, who would become the first Latino and first immigrant to head the agency. "It will take time to build the infrastructure capacity so we can enforce our laws."  
But what Mayorkas means by enforcing U.S. immigration laws is far different from the Trump administration's definition. Each member of any caravan attempting to cross into the United States would be evaluated separately on whether their case for asylum meets the law's definition, he told the Senate Homeland Security Committee. This is a dramatic shift from Trump's policy that aimed to prevent the large groups travelling from Central America from crossing into the United States at all.
Biden has promised a swift reversal of Trump's policies of cracking down on illegal immigration and his efforts to fulfill a 2016 campaign promise to build a massive, sprawling wall along the U.S.-Mexico border. During his first days in office, Biden will ask Congress to provide a pathway to citizenship for an estimated 11 million immigrants already in the country illegally. Biden also will announce plans to pause wall construction until further review and new protections for immigrants who were brought to the U.S. as children and are beneficiaries of the Deferred Action of Childhood Arrivals, or DACA, policy, one of 15 executive actions Biden will announce after being sworn into office Wednesday. 
read more:
https://www.realclearpolitics.com/articles/2021/01/20/republicans_block_swift_approval_of_bidens_dhs_pick__145075.html