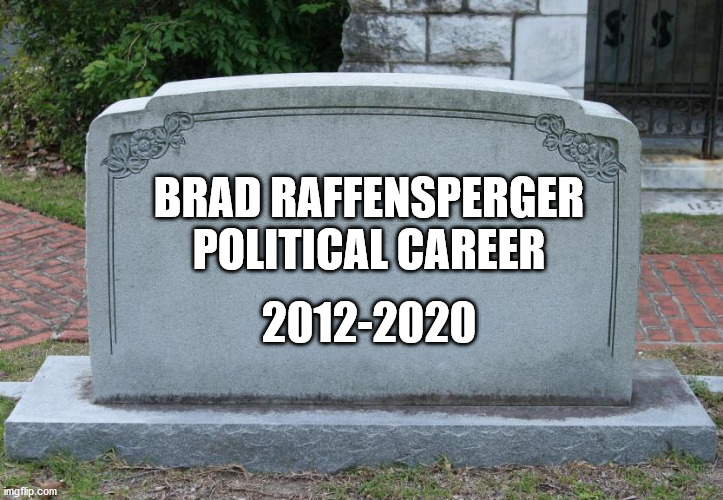 President Trump called Georgia's Secretary of State, Brad Raffensperger, to try to get the latter to stop obstructing the fraud investigation in Georgia. Instead, after whining about the almost seven hours he's spent on the issue, Raffensperger refused to engage in an investigation and then leaked the call to the Washington Post, which promptly misrepresented its contents. Trump has now sued Raffensperger in both state and federal court for secretly recording and then disseminating a confidential settlement discussion.
There's something wrong with Brad Raffensperger. I don't know what it is – that is, whether he's generically corrupt or has a serious personality disorder – but it's not normal for a Secretary of State to behave as he has when faced with the biggest election fraud claim in American history. If Raffensperger really believed there was no fraud, he would be going out of his way to make every bit of information available to President Trump's team to prove his point
Instead, Raffensperger is putting up every barrier possible. This is a man who is desperate to hide from the world what happened in Georgia on and after the election. If the consciousness of guilt alone were proof of election fraud, Raffensperger would be Exhibit A in a slam-dunk case.
But it doesn't stop there. When President Trump called Raffensperger to see if he could cajole this lazy, arrogant, entitled man into at least working a little bit on the fraud matter, instead of reflexively resisting every fraud assertion, Raffensperger decided to play dirty. He recorded the call and then released it to the Washington Post which did its usual black magic on anything connected with the President.
read more:
https://www.americanthinker.com/blog/2021/01/president_trump_sues_georgias_brad_raffensperger.html