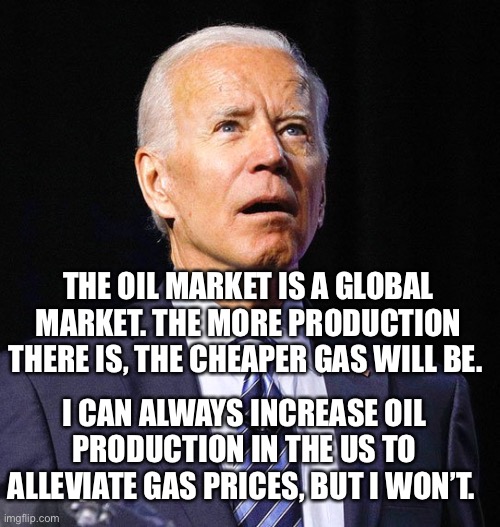 The OPEC+ oil cartel dealt a blow to President Biden's hopes of increased supply when it voted for just a small increase in production on Wednesday – even after Biden's controversial fist bump with Saudi Crown Prince Mohammed bin Salman last month.
The White House refused to condemn the move, even as White House Press Secretary Karine Jean-Pierre said 'the President has been very clear ...  that oil supply must meet oil demand.'
She pointed to a series of drops in oil and gas prices, and spoke in front of a chart that showed the drop.
'Seven weeks ago, the price of barrel of oil was about $120. And now it's at around $95. Gas prices went from more than $5 to under $4 for majority of the country. We've seen the fastest decline as I just laid out in gas prices in over a decade and that's 50 days straights,' she said.
read more:
https://www.dailymail.co.uk/news/article-11077937/OPEC-tells-Biden-wont-produce-oil-embarrassing-blow.html