The Democrat's presumptive nominee Joe Biden will name his running mate as early as next week, and Congressional Black Caucus Chair Rep. Karen Bass (D-CA) is reportedly a top contender for job.
The California Democrat has emerged as the favorite pick of former Sen. Chris Dodd, who serves on Biden's vice presidential search committee. According a source who spoke with Politico, Dodd has urged Biden to choose Bass because "she's a loyal No. 2. And that's what Biden really wants."
Her resume bears the hallmarks of a rising political star, starting with her first foray into elected office 16 years ago, when she won a seat in the California State Assembly and later became the first Black woman in the country to serve as the speaker of a state legislature when she assumed the Speakership in 2008. Prior to this, Bass worked as a physician assistant and a left-wing community activist who founded a non-profit in the 1990s called the Community Coalition. She made headlines after the 1992 L.A. riots for her fight to prevent liquor stores from being rebuilt in the neighborhoods destroyed by the uprising.
In 2010, Bass won her U.S. House seat, where her voting record has been typical of a progressive member of a Democratic Party increasingly embracing socialism.
However, a deep dive into Bass's background reveals that her influences were not just socialist, but hardcore communist.
GROWING UP WITH 'RED DIAPER BABIES'
Bass discussed her earliest political influences growing up on the Westside of Los Angeles and attending Alexander Hamilton High School in a 2008 interview with progressive authors Darnell Hunt and Ana-Christina Ramon for their book Black Los Angeles: American Dreams and Racial Realities.
"Many of Karen Bass's early influences, as she notes, were among the city's most prominent white and Jewish leftists," the authors write.
Bass told them:
It [the white Left] played a huge role for me. In Hamilton [High School] for example, a lot of the Jewish parents were activists and some of them were in the Communist Party. And so I grew up with a lot of red diaper babies. And there were some African American parents who were in the Communist Party. There were teachers who were in the Communist Party. So, white radicals were very influential. And at the same time you have the Panthers and the whole black movement.
"Red diaper babies" is a slang term used to describe children of members of the Communist Party USA during the Cold War.
LEADER OF A COMMUNIST FRONT GROUP
Over the years, Bass has spoken frequently about her decades-long involvement with the Venceramos Brigade (VB), starting from the time she was 19-years-old in 1973. She would make at least eight trips to Cuba in the 1970s and more in the decades that followed.
Articles about her work with the Venceremos Brigade make it sound like the Cuban equivalent of Habitat for Humanity or any other praiseworthy volunteer organization providing humanitarian assistance in poor countries.
In fact, the Venceremos Brigade was a Cuban communist front group founded in 1969 by Fidel Castro and the radical members of the Students for a Democratic Society (SDS). The Brigade was run by the Cuban intelligence service, the General Directorate for Intelligence (DGI).
Horowitz and his fellow Ramparts editor, Peter Collier, explained the origins of the Venceremos Brigade in their 1989 book Destructive Generation:
In 1969, a group of radicals including SDS leader Bernadine Dohrn and Castro apologist Saul Landau traveled to Cuba to meet with the Vietnamese and launch the Venceremos Brigade. The ostensible reason for this effort was to provide help for the Cuban sugar harvest. The real reason was to meet Cuban and Vietnamese officials in Havana to map out strategies for the war in America, the "other war," which would ultimately defeat the United States in a way that the battlefield situation in Vietnam never could have.

 
The public rationale for the Venceremos Brigade was to organize six-week work trips for American volunteers to assist Cubans in harvesting Castro's sugar cane crop. "The first thing Castro did when he came to power was ruin Cuba's economy," Horowitz said.
SEEDS FOR A FUTURE POLITICAL HARVEST
The Venceremos Brigade was much more than just an intelligence gathering tool. Its ultimate value was in planting the seeds of a political influencing harvest that Castro's regime would reap decades later. The Brigade was a mechanism to train future political operatives in the United States who would one day be in a position to assist the communist regime.
Indeed, the 1976 FBI report revealed that the ultimate objective of the Cuban intelligence officials in running the Venceremos Brigade "is the recruitment of individuals who are politically oriented and who someday may obtain a position, elective or appointive, somewhere in the U.S. Government, which would provide the Cuban Government with access to political, economic and military intelligence."
SURVEILLED BY THE LOS ANGELES POLICE DEPARTMENT
In 1978, the American Civil Liberties Union (ACLU) filed a class action lawsuit against the Los Angeles Police Department (LAPD) and 12 undercover officers with the LAPD's Public Disorder and Intelligence Division (PDID) for spying on left-wing organizations and activists. In the lead up to the 1983 trial, the ACLU released thousands of pages of police intelligence reports and depositions of the subpoenaed officers to cast the LAPD in a negative light.
In November 1983, Los Angeles Police Chief Daryl Gates decided to turn the tables on the ACLU by releasing information about the left-wing plaintiffs the LAPD had been surveilling. Karen Bass was among the plaintiffs revealed in the police's document dump.
A Los Angeles Times' article from November 28, 1983, described the revelations about "plaintiff" Bass: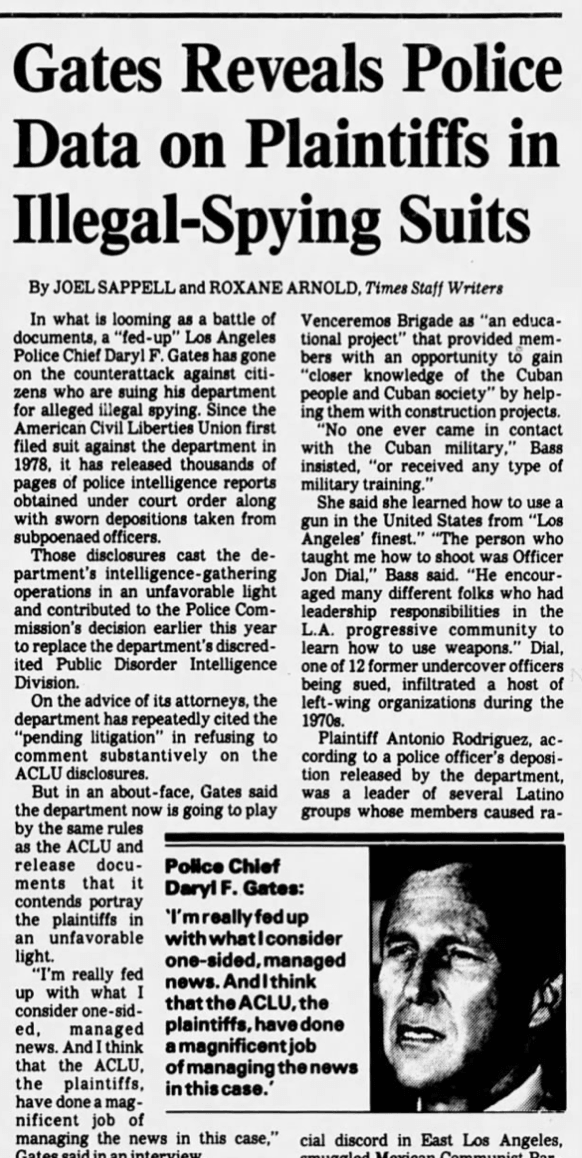 Plaintiff Karen Bass, according to a 1973 intelligence document provided to The Times, "traveled to Cuba with the 6th Contingent of the Venceremos Brigade. The brigade trains revolutionary-prone Americans in terrorist tactics and guerrilla warfare while claiming to harvest sugar cane."

Bass, characterized as a brigade leader, "returned from Cuba to the USA bringing back propaganda literature," the document noted without citing the source of this information.

A surprised Bass, now 30 and a physician's assistant, said her eight trips to Cuba were educational and had nothing to do with terrorism.

"I'm angry and I'm shocked that they would use (this allegation) to try to attempt to smear me personally and the brigade," Bass said in an interview. She described the Venceremos Brigade as "an educational project" that provided members with an opportunity to gain "closer knowledge of the Cuban people and Cuban society" by helping them with construction projects.

"No one ever came in contact with the Cuban military," Bass insisted, "or received any type of military training." She said she learned how to use a gun in the United States from "Los Angeles' finest." "The person who taught me how to shoot was Officer Jon Dial," Bass said. "He encouraged many different folks who had leadership responsibilities in the LA progressive community to learn how to use weapons." Dial, one of 12 former undercover officers being sued, infiltrated a host of left-wing organizations during the 1970s.
The LAPD eventually settled the lawsuit in 1984 and agreed to disband the unit and destroy many of its records.
FEASTING WITH CASTRO WHILE CUBANS STARVED
Bass's L.A. Venceremos Brigade was part of the 6th contingent (each expedition is numbered as a contingent. Currently, the Brigade is on its 50th contingent.) In a 2015 article in Dissent magazine, Michael Kazin described his experience as a member of the first contingent in 1969.
Kazin notes that the sugar cane harvest was never what this was all about: "[O]ur real reason for being there was to make a political point, as the almost daily coverage we received in Granma, the Communist Party organ, made clear."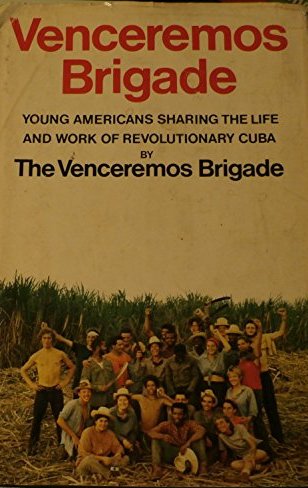 The Americans were serenaded with rock music every morning, and their hosts "treated us to a regimen far more luxurious than that endured by native macheteros. They broke up the workday by bringing us jars of frozen Bulgarian fruit yogurt at mid-morning and then served us a three-course meal at lunch." In the evenings, the American radicals enjoyed "an excellent dinner (and all the cigars we could smoke)," and they were even joined by "Commandante en Jefe" himself who engaged in one of his infamous hours-long speeches at dinner, according to Kazin.
WORKING 'ARDUOUSLY' TO BRING THE U.S. 'CLOSER' TO COMMUNIST CUBA
In her interview Sunday on MSNBC, Bass again affirmed her fondness for the Cuban people.
"I happen to believe that sometimes the best way to change a regime is through having relations versus not," she said. "For a country that is 90 miles away, for a policy that we've had decades [and] hasn't worked, I think opening up relationships is the best way to go."
Whether normalizing relations with Cuba is "the best way to go" is debatable, but what is certain is that Castro's regime has sought normalization for decades. His courtship of American leftists like Bass eventually paid off when they were in political positions to press for changes in U.S. policy towards the communist regime.
"What they want to do is prop up a communist dictatorship without demanding that they dismantle the dictatorship," Horowitz said of Bass and the American left's decades-long push to normalize relations with Castro's Cuba. "There is a reason why we isolated Cuba. It's a monster regime."
A September 25, 2015, article in the official Cuban Communist Party newspaper Granma described a contingent of U.S. politicians, including Bass, meeting with Cuba's communist dictator Raul Castro while he was in New York City for the United Nations General Assembly, nearly a year after President Obama began the process of normalizing relations with Cuba.
read FULL article here: https://www.breitbart.com/2020-election/2020/07/31/karen-basss-long-march-from-communist-fringe-to-bidens-vp-shortlist/