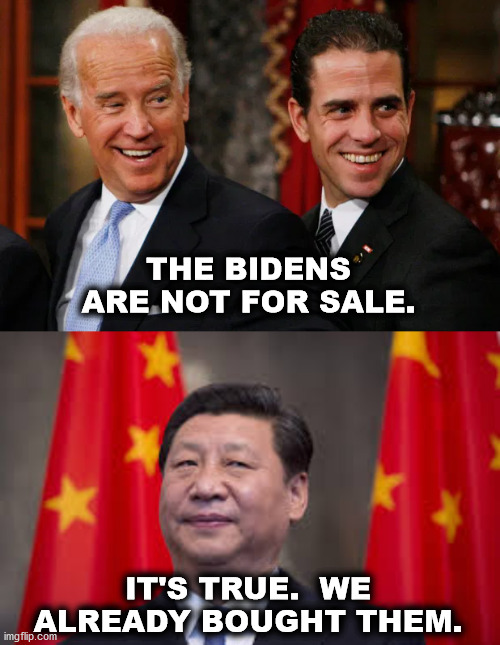 If the label says "Biden," it was definitely influenced by China. – John Solomon at JustTheNews.com is reporting that The National Legal and Policy Center has asked the U.S. Department of Education to investigate its findings that the University of Pennsylvania (Penn) has over the past several years accepted more than $22 million in anonymous China-originated donations to its Biden Center and failed to properly disclose the contributions.
From Solomon's report:
The complaint, filed by the National Legal and Policy Center, says that over the past three years, the university has accepted around $22 million in anonymous funding from Chinese sources. That's out of a total of more than $70 million from Chinese donors during that time, the NLPC said.

Those significant funds, including the anonymous amounts, rolled in after the Biden Center was announced in early 2017 and launched in February 2018. The center is located in downtown Washington, D.C.

Federal records show that the University of Pennsylvania has received significant donations from China since the opening of the center. One 2018 donation alone totals $14.5 million; it is listed as "anonymous" in federal records.

The NLPC alleges the university may have violated federal law in accepting those anonymous monetary donations. The Higher Education Act mandates schools report the national origins of any donations above $250,000 although not necessarily the individual names of donors themselves.
[End]
This serves as just one more reminder that Biden, his son and his brother have long been in the pockets of Chinese interests. The stark reality facing our country today is that, should Biden manage to win the election in November, all of the gains President Donald Trump has made through the sheer force of his will in terms of U.S./China relations and trade policy will be immediately reversed the day after Biden assumes office.
If you like the fact that virtually all U.S. antibiotics and PPE are sourced through China at some point along their supply chains and want it to stay that way, vote for Biden. Because that would be a fait accompli should he win. There are trillions of dollars at stake, and Creepy Uncle Quid Pro China Joe wants to ensure his family continues to get its fair share.
read more:
http://dbdailyupdate.com/index.php/2020/05/25/biden-center-under-investigation-for-illegal-donations-from-china/