By Craig Andresen – The National Patriot and Right Side Patriots on cprworldwidemedia.net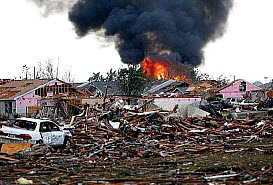 I think it's time to put a few things regarding the Obama regime into perspective given recent events and while this will, no doubt, bring about the ire of liberals, they just can't argue against the facts.
Let's begin…
According to the Obama regime's FEMA director, W. Craig Fugate, neither Cleveland and Tulsa counties in Oklahoma, ravaged by tornados just a couple of weeks ago, deserve federal tax dollars to assist individuals and businesses in rebuilding efforts.
Governor Mary Fallin is looking for other avenues to cope with the disasters that have devastated that region of the state including assistance from the U.S. Small Business Administration though she shouldn't be holding her breath.
The nation should take note of this because, on the off chance YOUR town, homes or businesses get torn up due to a natural disaster doesn't mean that you, under the Obama regime, have any right to taxpayer funded assistance.
Those applying for relief from FEMA must be considered a threat to Obama and his regime who have other plans for our taxpayer dollars.
Let's move along…