By Craig Andresen on October 10, 2014 at 4:06 am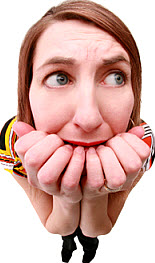 Oh, for God's sake…
KNOCK IT OFF ALREADY would ya? The wild Ebolas are not going to stampede through your town or neighborhood and get you.
Don't get me wrong…there are precautions you should take to minimize any chance that you could be blindsided by a marauding Ebola and primarily among them is this carefully guarded bit of advice…
If you're out and about, running errands or doing your daily business and you happen upon a puddle of someone's bodily fluids…don't…and I repeat…DO NOT frolic about in it….especially if it is a fresh puddle as the Ebola virus will only live for a matter of a quarter of a day or so in such conditions.
That, as I said, is the primary precaution one should take to avoid being attacked by a wild Ebola but there is one other very important and necessary precaution one should employ…
DO NOT WALLOW ABOUT IN LIBERAL BULLSHIT as THAT is a definitive carrier of the virus.
Good grief people…get a grip.
You want to worry about an epidemic? Worry about the epidemic of LIBERALISM which has been characterized by some as a MENTAL DISORDER. I however, see it differently. To ME…LIBERALISM is more like a brain eating amoeba and unlike the wild Ebola, liberalism is airborne.
Every time one of the infected opens its mouth, there's a chance of it spreading and while you may THINK you're immune to LIBERALISM, even a slight case can be deadly.
By spreading LIBERAL BULLSHIT across social media in regards to Ebola, you are, in fact, spreading LIBERALISM.
Here's how it all works…