By Craig Andresen Right Side Patriots http://www.americanpbn.com/
Well, we knew this was going to become the latest attack mode to be employed by Donald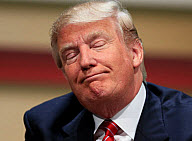 Trump and we knew as well, that his substance-free appraisal would be echoed, far and wide, by the blind sheep who follow and support him.
Now that Marco Rubio has emerged as a serious contender to Trump's coronation as Dictator in Chief…Trump is calling into question Rubio's eligibility, and social media is abuzz with Trumpers sharing his latest blather.
Oh, you can scream "CONSTITUTION" and "NATURAL BORN" together in the same sentence all you care to but it doesn't change one simple fact…that nowhere in the Constitution exists a definition OF Natural Born Citizen. It doesn't. That's a fact. Like it or not.
And you can scream that everybody back then knew what it meant and it meant that to be a Natural Born Citizen, one had to have TWO parents who were BOTH citizens but there is yet another nagging fact regarding that misguided assessment…
It isn't true. More on that shortly.