By Craig Andresen – The National Patriot and Right Side Patriots on cprworldwidemedia.net
And SO now we know some very important information regarding Netanyahu's speech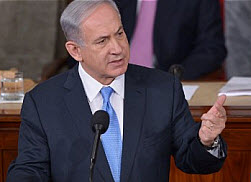 before the joint session of congress.
He was spot on correct in his assessment of the 'deal' Obama has been humping for with Iran and the Obama regime has ADMITTED it.
According to the Obama regime…Israel listened in on the secret meetings. They SPIED and they spoke with confidential informants to garner even MORE information regarding those talks. Damn good for Israel.
According to sources, it wasn't the spying that pissed off the Obama regime…no…it was that Netahyahu delivered a good bit OF that information to congress. THAT'S what has the dictator in a tizzy because the info delivered by Bibi didn't match up with the information delivered by Obama to members of congress.
Said one senior Obama regime official…"It is one thing for the US and Israel to spy on each other. It is another thing for Israel to steal US secrets and play them back to US legislators to undermine US diplomacy."
For their part, Israel denies they engaged in any such spying saying, "These allegations are utterly false. The state of Israel does not conduct espionage against the United States or Israel's other allies."
Doesn't mean they didn't poke around a bit…or a lot…to get the needed information and after all…the Obama regime DID spy on Israel so…