By Craig Andresen – The National Patriot and Right Side Patriots on cprworldwidemedia.com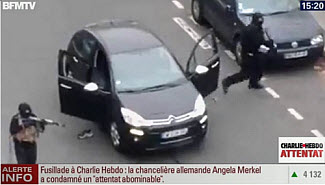 Yesterday, in Paris, an act of such barbarism as to stun even the most hardened cynic took place when gunmen, Islamic terrorists wearing ski masks, stormed in to the offices of Charlie Hebdo, a satirical magazine known for its lampooning of Islam and assassinated at least 12 people including two police officers and ten staff members.
The damn cowards didn't even have the courage to show their faces.
Among the dead were cartoonists who had, over the years, lent their talents to the magazine's pages and covers to use absurdity to combat barbarianism.
Cartoons.
That's what all of this was over.
Cartoons.
Islam, an ideology so peaceful that it can't stomach a few cartoons or a parody of its warped and barbaric agenda.
Islam's ideology can issue fatwas, enact Jihad and demand the genocide of any and all who don't accept their 7th century, pedophile leaders commands but…