Don't forget to Click LIKE at the bottom of this article, and share it everywhere!!
© Craig Andresen/thenationalpatriot.com 2018
In order to be a liberal these days…I mean a dyed in the wool, card carrying certified liberal…one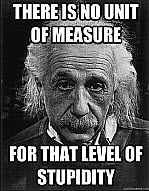 has to be nuttier than a squirrel turd on a pecan plantation.
Today's aforementioned variety of liberals have an upside down, ass-backwards view of the entire world in which they're taking up space.
They live in a world of denial, make-believe, entitlement, perceived and pretend victimhood and self-loathing. They believe as fact, things that are demonstratively untrue, and dismiss true facts as conspiratorial fraud. Not even Einstein could quantify the level of liberal stupidity.
Reality eludes today's liberals as deftly as a skunk eludes a semi in the middle of the road…the difference being that liberals should be smart enough to know better than to play in traffic where skunks simply never see reality coming at them.
Let's have a look at a few examples of what it takes to be a true liberals in today's America…