By Craig Andresen Right Side Patriots http://www.americanpbn.com/
For the love of Pete.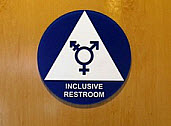 We have a gaggle of brain dead celebrities, and equally brain dead politicians who just can't tolerate the most basic toilet etiquette.
Because some states have passed into law, statutes which require men to use the men's room and women to use the women's room, liberal moonbats are coming unglued left and…left.
What's going on here is stupid on more than one level.
First of all…we need LAWS regarding who should be peeing where? SERIOUSLY? It's become so much of a problem, like people who tend to use their toasters in the shower for which we have safety stickers telling us not to…that we now need LAWS, passed by individual states, telling us which bathrooms we are supposed to use?
Apparently so, but…