By Craig Andresen – The National Patriot and Right Side Patriots on cprworldwidemedia.net
Okay…let me just see if I have this right.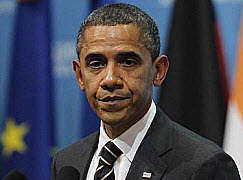 Obama lied.
I don't know about you but that's just…shocking.
Obama lied regarding Iran and the "deal" that allows the nation of barbarians to stockpile a nuclear arsenal…THEY never SIGNED it. Oh, I know they said they would never sign the "deal," hell, I even WROTE that they would never sign the "deal" but of course, that was a MONTH ago and what did I know?
NOTHING…according to assorted liberal knotheads…I didn't know what I was talking about. I was WRONG they all told me but…I was only quoting the Ayatollah Ass-a-Hola when HE said Iran wouldn't sign onto the deal.
What Iran did, according to the scant media coverage afforded it, was sign a deal they drew up THEMSELVES…THAT'S the "deal" they signed but the "deal" Obama had Kerry capitulate on? THAT "deal" was roundly REJECTED by Iran.
Oh…yeah, we still have to abide by the Obama terms of surrender…that we don't get out of but…IRAN…they DON'T have to abide by it and guess what? THEY AREN'T!!!