By Craig Andresen – The National Patriot and Right Side Patriots on cprworldwidemedia.net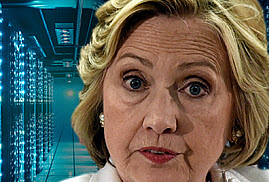 Another day and yet another of Hillary's email sandal lies has been exposed. Her campaign staff is surely removing all sharp objects from her reach and no doubt, they have also relieved her of her shoe strings.
Hillary's favorable ratings are sinking fast…down to but 38% a 7 point drop since May, her favorable rating, among democrats, is now down 11 points since May and since May, Hillary's support from women has now dropped below 50%.
I expect any day now the call to abandon ship will be issued because, as though Trey Gowdy needs any more ammunition, Hillary's emails are the gift that keeps on giving.
On Saturday, it was revealed or leaked that once again, Hillary lied. Previously, she had stated that she had turned over all…ALL of her work-related emails to the Department of State. Not only did she state it…she signed a sworn statement under penalty of perjury to it.
I, Hillary Rodham Clinton, declare under penalty of perjury that the following is true and correct:
1. While I do not know what information may be "responsive" for purposes of this law suit, I have directed that all my e-mails on clintonemail.com in my custody that were or potentially were federal records to be provided to the Department of State, and on information and belief, this has been done.
2. As a result of my directive, approximately 55,000 pages of these emails were produced to the Department on December 5, 2014.
3. Cheryl Mills did not have an account on clintonemail.com. Huma Abedin did have such an account which was used at times for government business.
Hillary, adding to the growing list of offenses, has now committed perjury because, it has been discovered that an email chain, between her and General Petraeus, had NOT been handed over as ordered by a federal judge but that's not the biggest news coming from this particular breech of the law.
The BIG news is…who handed over this latest string of emails…