By Craig Andresen and Diane Sori – RIGHT SIDE PATRIOTS on cprworldwidemedia.com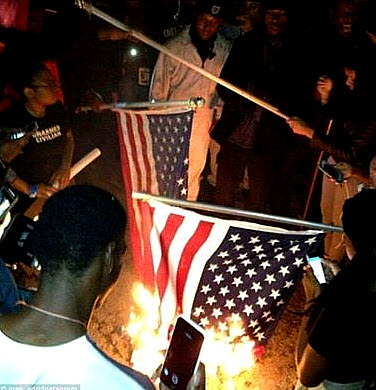 We have always said that political correctness will get people killed and that political correctness will obscure the truth…and obscuring the truth is something RIGHT SIDE PATRIOTS will NEVER do. And our newest case in point…the 'ground zero' known as Ferguson Missouri. Taking the old saying 'boys will be boys' to a heightened new level, the bussed-in, bought and paid for agitators prove that while you can take the boy out of the ghetto most times you CANNOT take the ghetto out of the boy.
Ferguson is on fire and that fire is now spreading into major cities from coast to coast. Feeding upon the frenzy of those who will loot, steal, and riot at the drop of a hat, the newest excuse de-jour is that their actions are based upon the fact that they simply did NOT like that a now proven innocent police officer will NOT be charged in the justifiable shooting death of one of their own…a thug solely responsible for his own demise.
Burning to the ground black owned businesses along with businesses that employed blacks is the epitome of stupidity, because they are destroying the economic life-blood of their own community. The profound ingenuity of the 'marauding morons' can be seen in their targets during the early hours of the rioting. These 'geniuses' burned to the ground Ferguson's O'Reilly Auto Parts store and the Auto Zone…now one has to wonder wherever will they find parts to repair the 'rides' they carjacked after the verdict was announced.
Furthermore…