By Craig Andresen Right Side Patriots http://www.americanpbn.com/
Earlier this week, the mastermind and on-the-loose gunman from last November's Islamic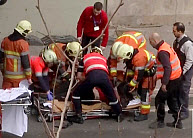 terrorist attacks in Paris was captured in Brussels where information showed that he was in the process of planning more attacks to be carried out by 7th century barbaric pigs against innocent, civilized people.
Early Tuesday morning, those planned attacks became reality as bombs were detonated at an airport and metro station in Brussels resulting in the deaths, so far, of more than 30 and the wounding of more than 200.
According to Belgian Prime Minister, Charles Michel… "What we feared has happened, we were hit by blind attacks."
While the events in Brussels are horrible, and while my heart goes out to the families and friends murdered or wounded in the attacks, I cannot bring myself to agree with the Prime Minister.
These were not blind attacks.
You should have seen them coming…