Be sure to Click LIKE at the bottom of this article, and share it everywhere!!
By Craig Andresen – Right Side Patriots on American Political Radio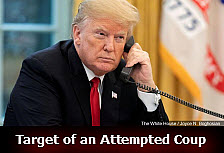 This is getting more than ridiculous, it's getting downright…entertaining.
I'm talking about the liberal's and their latest attempted coup against President Donald Trump. Those nut cases are now getting so desperate, and as this latest attempted coup begins to unravel, they are now starting to deny things they have already admitted to.
There simply isn't enough popcorn for this much entertainment.
Let's take Nancy Pelosi as an example…
Late last week, plastic Nancy was on "Good Morning America" where George Stephanopoulos brought up Adam Schiff's House hearing parody of the Trump/Ukraine phone call. "I know you support Chairman Schiff but was it right for him to have that dramatic interpretation of the president's transcript of the phone call at the hearing last week?"
Stephanopoulos went on to say…