By Craig Andresen and Diane Sori –  Right Side Patriots on cprworldwidemedia.net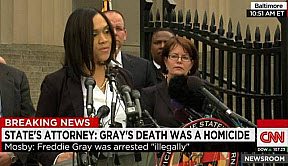 "To the people of Baltimore and the demonstrators across America, I heard your call for 'no justice, no peace.' Your peace is sincerely needed as I work to deliver justice on behalf of this young man." – Baltimore State Attorney Marilyn Mosby
And here we go folks…the federal government, under the watchful eye of the Obama regime, will now boldly go where they shouldn't…into local municipal police departments and the tactic being employed will surely lead to grabbing power away from local law enforcement in exactly the same way the feds managed to grab land from the states as outlined in our 'Land Grab' series.
Obama is set to award some $20 million dollars in federal grants to local police departments for the purpose of buying body cams for officers and that's just the beginning. The total package of this 'gift' to local law enforcement is $75 million dollars and it seems to have the backing of Congress.
SHOULD local law enforcement officers be outfitted with body cams? Yes.
Should they be glad-handing to the federal government for the funds?