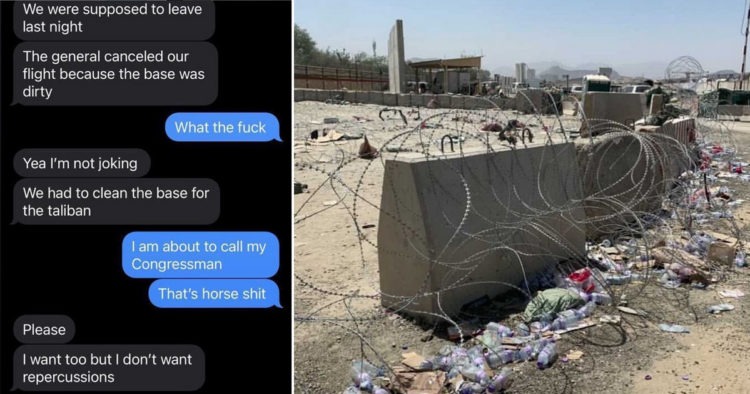 A viral Instagram post highlights a text message exchange in which a U.S. military servicemember states that the 24th Marine Expeditionary Unit is being forced to clean a military base for the Taliban in Afghanistan. The report claims that a troop evacuation flight was cancelled by Brigadier General Farrell J. Sullivan so that Marines could sweep up trash in preparation for the Taliban takeover.
The RaidTeamCo Instagram account posted screenshots of the text message exchange on Sunday, accompanied by the caption "Meanwhile on the 24 MEU! 🤡s This was sent to us from one of the homies his wife is currently deployed and they are being told they have to clean before they can leave! WTF SHARE!"
In the messages, the claim is made that "We were supposed to leave last night," "The general canceled our flight because the base was dirty." After receiving the response, "What the f**k," the Marine continues, "Yea I'm not joking," "We had to clean the base for the Taliban." The general being referred to is then identified as Brig. Gen. Farrell J. Sullivan of the Task Force 51/5th Marine Expeditionary Brigade.
read more:


https://nationalfile.com/general-reportedly-cancels-troop-evacuation-demands-soldiers-clean-the-base-for-the-taliban-before-leaving/