By Craig Andresen – Right Side Patriots on American Political Radio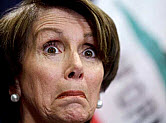 Armageddon is defined as…"the last and completely destructive battle."
In other words…Armageddon is the end of everything, including life.
So…according to perennial moonbat, Nancy Pelosi, regarding the GOP tax bill "It is the end of the world. The debate on health care is life/death. This is Armageddon."
I couldn't find even a single liberal on the record disagreeing with her, so one can reasonably suppose that before the passing of that GOP tax bill just before Christmas, liberals as a whole believed that should it pass…the entire world would come to an end.
Well…