By Craig Andresen – Right Side Patriots on American Political Radio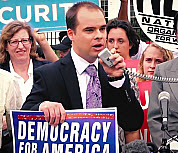 According to Neil Sroka, a liberal activist and spokesmouth for "Democracy for America," which sounds suspiciously like "Organizing for America," the 2018 strategy for his party's midterm success should include the impeachment of President Trump.
Here's exactly what he said…
"Democrats should run on an inclusive, populist agenda of free college and paid family leave, but shouldn't shy away from supporting impeachment."
Oh…please make that the foremost plank in the liberal/socialist party strategy.
PLEASE!!!
To understand exactly what Sroka is saying, one must dig out their liberal super, double top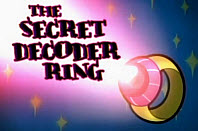 secret decoder ring and give it a spin. Luckily, I keep mine right handy, so allow me to decipher his blather for you.
"Inclusive" in liberal speak means…inclusive of all socialist, big government, entitlement and anti-American thinkers, and EXCLUSIVE of anyone who believes in our Constitution, limited government and individual rights or self-reliance.
"Populist agenda," in liberal speak means…mob rule that intimidates and suppresses those who, because of their belief in Capitalism, have actually made something of themselves, and have done so without reliance on the federal government.
"Free college and paid family leave," in liberal speak means entitlement based on cradle to grave nannism and reliance on other people's money.
See…socialism.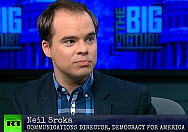 But…according to Sroka, and my super, double top secret liberal decoder ring…because all of that other crap failed them in 2016, based on its attempted fundamental transformation implementation over the previous 8 years…just impeach Trump.
That, in a nutshell, is what liberals are considering pinning all their hopes and dreams of a socialistic America on as we steam towards the 2018 midterm elections.
Can you say…desperation?
First of all…liberals would need to take 24 seats in the House and 2 in the Senate away from Republicans this November to hold a majority of Congress, and without that majority, they couldn't impeach a dog catcher in Squatsville Kansas…much less a sitting President of these getting great again United States.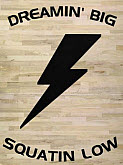 To be honest, I don't even know if there IS a Squatsville in Kansas, or if they have a dog catcher…but you get my drift.
Naturally, the political party that can't come to grips with the fact that there are but two genders, seems to now believe that impeaching President Trump would get them Hillary as their President…and as liberals are most certainly Constitutionally challenged…let me clear this up for them.
They'd succeed in only two things…first, they'd get President Mike Pence, who would pick a Republican as HIS Vice President…and they would only manage to eliminate the one thing that beats the liberal media matrix…Trump's Twitter account, which he uses to bypass said media to deliver his own messages directly to the people.
All of this is in response to liberals having been butt-hurt over Hillary's loss to President Trump in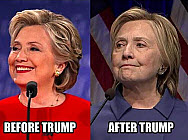 2016, which they still, to this day, see as the theft of the White House from their anointed dear socialist leader, so let's have a quick look at the numbers…
Trump won 304 Electoral College votes to Hillary's 227. Given that it takes 270 to win the White House…well…there ya go.
Trump won 30 states to Hillary's 20…and Trump was the winner in 2,623 counties across this nation of ours while Hillary only won in 489 counties.
This is exactly why we have an Electoral College…which I'm reasonable sure the socialists would want to be free if they didn't want it gone altogether…to prevent only the votes in heavily populated specific regions from controlling our election process.
If we went only with the majority of the popular vote, the U.S. would be a democracy…in other words…run by mob rule…but we're a Constitutional Republic, which means we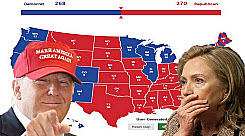 protect the rights of the minority.
The fact of the matter is…the Electoral College makes a lot more sense that whatever it is that's used to determine who gets to play for the national championship in college football, and quite frankly, I'm a bit surprised that liberals didn't label last Monday's game racist since it was between two teams from the deep south, and the fans cheered when President Trump walked onto the field before the game to sing the National Anthem…but, I digress…
Let's get back to the liberal's 2018 midterm election strategy, shall we?
That, of course, being the impeachment of President Trump.
To impeach a sitting President, one would have to prove that said sitting President is guilty of high crimes or misdemeanors…which liberals are just sure President Trump has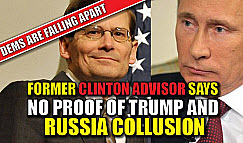 done…based on their belief that Trump committed collusion with the Russians leading up to the 2016 election, and that he obstructing justice when he fired James Comey from the FBI.
There are, however, distinct problems with these liberal beliefs.
First, the investigation now being headed up by Robert Mueller has found absolutely no evidence that Trump colluded with the Russians…quite the opposite in fact…as the investigation has brought to light collusion with the Russians on behalf of Hillary Clinton.
Second, since m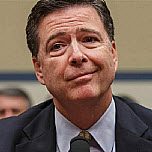 ost of the liberal belief in collusion between Trump and the Russians is based on a fake dossier that was manufactured for liberal political purposes…the firing of Comey is more than justified, as it was Comey's FBI, and arguably Comey himself that helped pay for that manufactured dossier…and oh yeah…Hillary chipped in to help pay for it too. And let's not forget that Comey exonerated Hillary well before that particular investigation was over, and well before the FBI even interviewed Hillary herself.
The deeper Mueller digs, the more liberal sludge is brought to the light of day.
In fact…so far…Mueller has managed, despite his liberal directive…to uncover more than enough direct evidence to have impeached Hillary Clinton had SHE actually won the 2016 election, and not an iota of evidence to impeach President Trump.
This is why liberals, like Sroka, are so anxious to bring impeachment proceeding against President Trump before Mueller finishes his dirty, bias laden investigation. Once that investigation is over, liberal support in congress for a Trump impeachment is going to lower than a snake's ass in a trench.
Truth be told, Hillary, Bill, Comey and an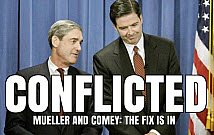 assortment of supposedly non-biased, yet heavily biased FBI agents, Loretta Lynch and an assortment of DOJ officials from the Obama regime…and possibly Obama himself SHOULD be facing charges right now.
Liberal logic, however, has all the earmarks of basing their 2018 strategy on Impeaching President Trump, which comes as no great surprise to those of us with a super, double top secret liberal decoder ring, as it is the same logic that leads liberals, who claim the sole right to stand for gay rights, to defend…as a "religion of peace" an ideology that premeditates the murder of 50 gay people in Orlando, but draws the line at a baker refusing to make a cake for a gay wedding…because of the baker's Christian religion.
Impeachment takes a simple majority of the House to vote for it, but a 2/3 majority of the Senate, so even if liberals take both the House AND the Senate in the 2018 midterms, which, based on the economic and foreign policy wins being racked up by Trump over the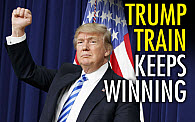 last year seems highly unlikely, liberals won't have anywhere near the 2/3 of the Senate they would need to turn Vice President Pence, into President Pence.
But here again, liberal logic buries its head even deeper in its own keester. We're talking about the same liberal logic that lead Billy Boy Clinton to question what the meaning of "is" is. Here's what Neil Sroka had to say regarding the 2/3 of the Senate needed for impeachment…
"We'll see what two-thirds looks like."
Liberal common core math aside…2/3 of the senate equates to 67 votes…and of the 34 Senate seats up for election in the 2018 midterm election this coming November…26 are currently held by liberals. That means, again sans common core math…that only 8 are currently Republican seats, and so, even if the liberals manage to take all 8…they STILL won't have 67 seats…67 votes or the 2/3 they need to impeach President Trump.
This is for liberals only…49 seats, plus 8 seats, equals 57 seats…10 short of what you need for your 2018 midterm strategy to work.
But, if an impeach
ment of President Trump strategy is really what you liberals think is your best bet leading into the November elections, don't let me stop you.
By all means…PLEASE carry on…but…take my advice…
Order your bottles of bubbles, your Crayons and coloring books, and your therapy puppies now…because come November…trust me…you're gonna need them.
Copyright © 2018 Craig Andresen / thenationalpatriot.com
As Diane Sori, my RIGHT SIDE PATRIOTSpartner is once again in FB jail, and unable to post…I ask that you take the time to read her most recent Op-Ed regarding the uproar of Oprah by CLICKING HERE!!!
http://listen.samcloud.com/w/73891/American-Political-Radio#history