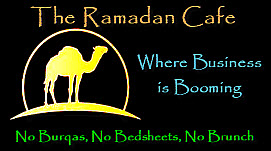 Muslim husband to wife as dawn approaches: "I think I'll have to brush my teeth ONE more time."
Muslim wife to husband: "So stop fasting already."
Ramadan…not really a holiday per se as it's just the name of a month…a month that actually revolves around food or should we say a muslim's self-perceived lack thereof. Ramadan…a month where muslims are 'supposed' to remember the needy and poor by giving to charity…after all when one thinks of islamists one naturally thinks of charity now doesn't one. And aside from the garb most islamic men wear, they really don't have much in common with Mother Teresa.