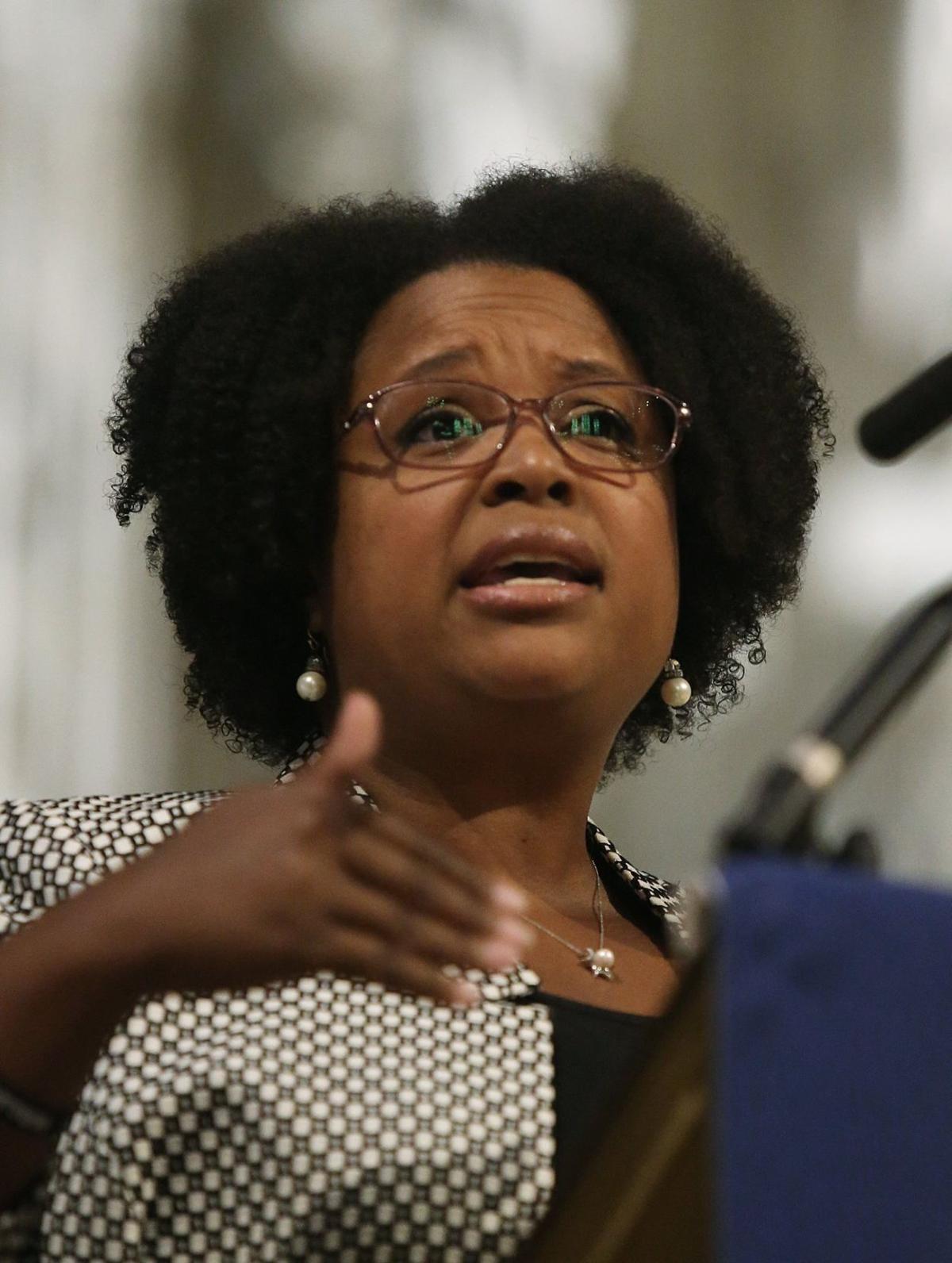 Candidate Maria N. Chappelle-Nadal speaks on Tuesday, July 26, 2016, during the First District Congressional Candidates debate at Christ Church Cathedral in St. Louis. Photo by J.B. Forbes, jforbes@post-dispatch.com
JEFFERSON CITY • Some of Missouri's highest-ranking officials delivered on Friday an ultimatum to state Sen. Maria Chappelle-Nadal: Resign or be removed from office.
Gov. Eric Greitens, a Republican, issued the first warning just before noon in a series of tweets blasting Chappelle-Nadal, a Democrat, for a comment Thursday on Facebook in which she said "I hope Trump is assassinated!" She quickly deleted the post.
Condemnation on Thursday was swift, with both Democrats and Republicans calling on the senator from University City to resign. But Chappelle-Nadal insisted she would not.
On Friday, Greitens said this in his tweets: "Senator Chappelle-Nadal said she hopes the President is killed. Republicans and Democrats have called on her to resign. Her response: 'Hell no.' Last night, in an interview, she refused to apologize — twice. If she will not resign, the Senate can vote to remove her. I believe they should."
Lt. Gov. Mike Parson, a Republican, piled on in a noon news conference, delivering the same ultimatum.
"I'm calling on Sen. Chappelle-Nadal to do the right thing and resign from her office," Parson said. "However, if she does not do so by veto session, I will, in my position as president of the Missouri Senate, immediately seek the expulsion pursuant to Article III Section 18 of the Missouri Constitution."
He said that he would seek Attorney General Josh Hawley's opinion on the applicability of the constitutional provision and that he would ask senators to initiate Chappelle-Nadal's removal.
That article in the state Constitution says the Senate can act with a two-thirds vote to "expel a member."
"She may have been very angry when she wrote those words, but anger is not a valid excuse," Parson said. "The comments she made are indefensible."
The Secret Service said Thursday that it was investigating. Threatening the president is a federal crime.
Two of the highest-ranking Senate Republicans said Friday afternoon in statements that they would employ rarely used parliamentary tools to expel Chappelle-Nadal if need be.
"We are preparing for options afforded in the Missouri Constitution and the Senate Rules if she continues to defy the public outcry and not resign," Senate President Pro Tem Ron Richard, R-Joplin, said in a statement.
"The process of expulsion is a significant, rarely used step that should not be taken lightly," said Majority Floor Leader Mike Kehoe, R-Jefferson City. "We are researching the detailed steps involved in the expulsion process and will be prepared to move forward as necessary."
Defiance, potential charges
Chappelle-Nadal was defiant Thursday in several interviews in which she refused the calls to resign. She said she wrote the five-word Facebook comment because of her anger over President Donald Trump's response to violence in Charlottesville, Va., last weekend.
On her Twitter profile Friday, she posted a link to a website, IStandWithMaria.com, asking supporters to add their name to a list.
Chappelle-Nadal told the Post-Dispatch she met with the Secret Service on Thursday and explained to them that she had made a mistake.
"I made sure it was clear to them that the anger I experienced was related to the trauma my constituents are going through," said Chappelle-Nadal, whose district includes Ferguson, a landfill linked to nuclear contamination and low-performing school districts.