Be sure to Click LIKE at the bottom of this article, and share it everywhere!!
By Craig Andresen – Right Side Patriots on American Political Radio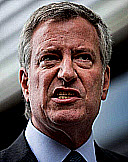 One of the big problems with liberals these days, is that you just don't know what's going to trigger them next. They're getting to be as bad as the jihadis. …in that they seem to be perpetually triggered.
Last week, New York City Mayor, Bill de Bla Blasio, a perpetually triggered liberal demanded an immediate apology from Brooklyn City Councilman Kalman Yeger…or else…a demand that Yeger immediately refused.
The whole stink arose after Councilman Yeger issued a tweet in response to Ilhan Omar's numerous and continued anti-Semitic attacks on American Jews, and her support of a certain group of people half way across the globe.
De Bla Blasio said of Yeger in his tirade…