Be sure to Click LIKE at the bottom of this article, and share it everywhere!!
By Craig Andresen – Right Side Patriots on American Political Radio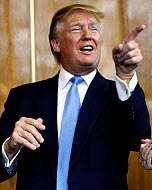 Earlier this Week, as hurricane Florence barreled towards the East Coast with a powerful storm, but before landfall, on Wednesday, September 12th, 2018…the Washington Post did what liberal fake news has become famous for…they blamed the impending hurricane on…
President Trump.
The title of the Washington Post op-ed? "Another hurricane is about to batter our coast. Trump is complicit."
Here's a tidbit from the poo-flinging fish wrapper…
"Yet when it comes to extreme weather, Mr. Trump is complicit. He plays down humans' role in increasing the risks, and he continues to dismantle efforts to address those risks. It is hard to attribute any single weather event to climate change. But there is no reasonable doubt that humans are priming the Earth's systems to produce disasters."
Did you get that?