By Craig Andresen – Right Side Patriots on American Political Radio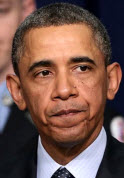 The speculation is over.
He knew.
Barack Hussein Obama knew full well what was going on with regard to the Clinton email probe, and with regard to the Mueller investigation into supposed collusion between President Trump, and the Russians.
To be clear, no such collusion ever existed, and according to newly released texts between FBI agent, Peter Strzok, and his lover, FBI attorney Lisa Page, Obama wanted "to know everything we're doing."
And here's where it gets really interesting…on September 16th…that's before the 2016 election, and about the time when that fake Steele dossier was in full use, Page wrote to Strzok about prepping then FBI Director, James Comey because…