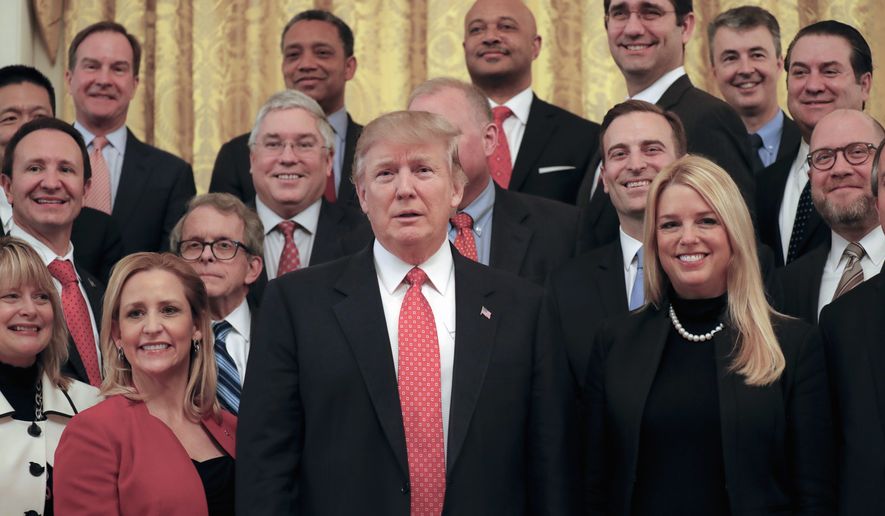 Once again drawing the ire of environmentalists, President Trump on Tuesday began to roll back a rule put in place by his predecessor that gave the federal government wide authority over small bodies of water across the country.
Mr. Trump signed an executive order that directed the EPA to begin dismantling the "Waters of the U.S." regulation, which gave the agency, along with the Army Corps of Engineers, power over small streams, lakes, ponds, and other waterways.
The Obama-era rule was highly controversial when it was unveiled in May 2015, with conservatives, energy companies, the agricultural industry, and other stakeholders casting it as an precedented Washington power grab. Amid those concerns, a federal court in October 2015 stayed the rule after just a few months in effect.
Mr. Trump's decision Tuesday technically doesn't take the regulation off the books for good, but it does give clear guidance to federal agencies that they must "review and reconsider" the rule immediately, potentially ending the ongoing legal battle.
"EPA's so-called Waters of the U.S. rule is one of the worst examples of federal regulation. It has truly run amuck," the president said during a White House ceremony Tuesday afternoon. "The Clean Water Act says the EPA can regulate navigable waters, meaning waters that truly affect interstate commerce. A few years ago the EPA decided that navigable waters can mean nearly every puddle or every ditch on a farmer's land, or any place else they decide, right? It was a massive power grab."
In his order, Mr. Trump relied on a legal opinion written more than a decade ago by the late Supreme Court Justice Antonin Scalia. In that opinion, Scalia said the "Waters of the United States" should apply only to permanent, standing or continuously flowing bodies of water.
read more:
http://www.washingtontimes.com/news/2017/feb/28/executive-order-tru...