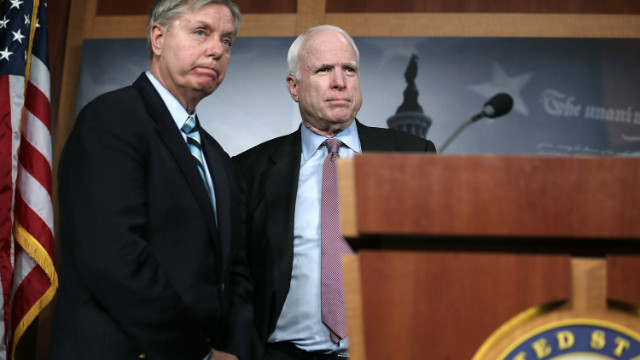 President Donald Trump lashed out Sunday afternoon at two Republican senators for their earlier criticisms of his new immigration policies.
Sens. John McCain and Lindsey Graham expressed concerns about Trump's recent executive order barring citizens of seven predominantly-Muslim countries from entering the U.S. Trump responded later in the day by telling the two senators to get their priorities in order.
"Our government has a responsibility to defend our borders, but we must do so in a way that makes us safer and upholds all that is decent and exceptional about our nation," a joint statement released by McCain and Graham stated.
The two senators argued that the order was not "properly vetted," adding reports that the Departments of State, Defense, Justice, and Homeland Security were not briefed prior to the signing of the executive order are particularly concerning.
"Such a hasty process risks harmful results," the statement explained "Ultimately, we fear this executive order will become a self-inflicted wound in the fight against terrorism . . . This executive order sends a signal, intended or not, that America does not want Muslims coming into our country. We fear this executive order may do more to help terrorist recruitment than improve our security."
Trump responded on Twitter.
read more:
http://dailycaller.com/2017/01/29/trump-calls-mccain-graham-weak-fo...