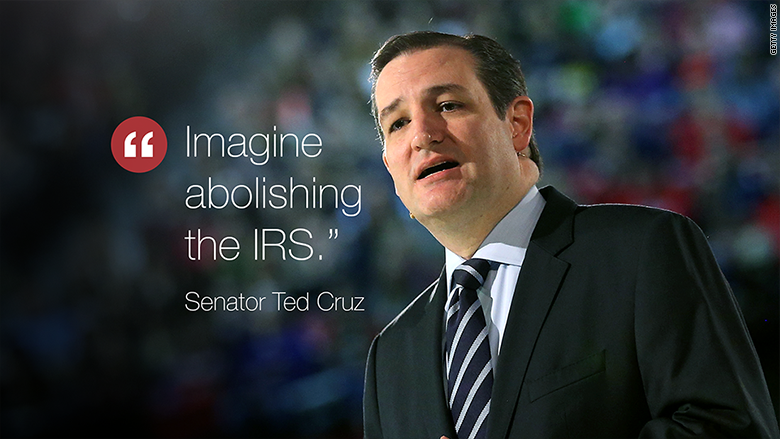 Sen. Ted Cruz has been gunning to abolish the Internal Revenue Service since coming to Washington two years ago.
To critics of the Texas Republican in Democratic and GOP circles, it sounds like bluster. The fiery rhetoric garners hearty applause from conservative audiences, particularly since revelations in 2013 that the IRS targeted Tea Party groups for extra scrutiny. But some federal agency is going to have to collect taxes, so Cruz's vow to shutter the IRS smacks of a politically motivated campaign promise rather than serious policy — at least to some.
In an interview with the Washington Examiner on Friday, the 2016 presidential candidate began to put some meat on the bones. Cruz, 44, explained how "abolishing the IRS" fits into his proposal, still being crafted by his team of economic advisors, for wholesale tax reform. This proposal, which Cruz plans to unveil later this year, is a key plank in his domestic agenda for economic growth that he would pursue as president.
"When it comes to jobs and growth and opportunity, the two most effective levers that the federal government has to facilitate small businesses creating new jobs, are tax reform and regulatory reform," Cruz said late last week, during a 20-minute discussion while on a brief swing through Las Vegas. "I am campaigning on a flat tax that would allow every American to fill out his or her taxes on a post card that allow us to abolish the IRS."
Cruz said he envisions shifting the tracking and collection of federal taxes to "some much smaller division" of the Treasury Department. The senator said that replacing the current, complex tax code with a simple flat tax would eliminate most of the work the IRS needs to do, making the agency obsolete and "irrelevant."
In its purest form, a "flat tax" treats all taxpayers equally. Income is taxed at the same rate regardless of earnings or wealth, while allowing for no tax deductions or exemptions. But Cruz said his flat tax proposal might allow some deductions, possibly for popular write-offs like for charitable donations and mortgage interest charged on a primary residence, paid annually by homeowners.
read more:
http://www.washingtonexaminer.com/cruz-explains-how-to-abolish-the-...