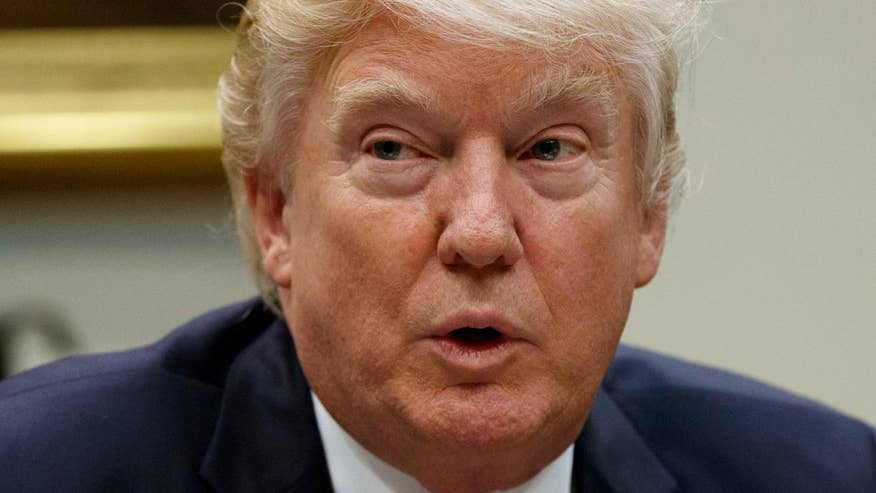 Democratic lawmakers and liberal activists plan to ring in Tax Day with nationwide protests this weekend meant to pressure President Trump to release his tax returns -- with organizers hoping for the biggest anti-Trump showing since January's Women's March.
On Saturday, thousands are expected to attend 'Tax Marches' in approximately 150 cities, including several affiliated events overseas.
"Whether people support him or not, [releasing his tax returns] is something that people think he should do. I think there is a chance something like this could move him," said Lisa Gilbert, vice president of legislative affairs at Public Citizen, one of the groups organizing the marches.
The president's supporters, however, see the marches -- and the persistent tax return focus -- as a waste of time.
In Colorado Springs, Trump backers plan to hold a counter-protest on Saturday. For them, what is in Trump's tax returns pales in comparison to what could be in his tax plan.
"Their whole message is they want to see the president's tax returns. I care far more about his policy than his tax returns," Trevor Dierdorff, El Paso County Republican Party chairman, told the Colorado Springs Gazette.
Rep. Jim Renacci, R-Ohio, said during a recent House Ways and Means Committee hearing that the pressure on Trump to release his returns is a "political mission," arguing the kind of bombshells Democrats are seeking wouldn't even be in such documents.
The protests, if nothing else, could make for a rowdy scene in cities across the country, reminiscent of the Women's March on inauguration weekend.
As many as 25,000 are expected to attend the rally in Washington, D.C. Sen. Ron Wyden, D-Ore., and Reps. Maxine Waters, D-Calif., and Jamie Raskin, D-Md., will be among the speakers.
Two of the largest events are expected in Seattle, site of the World Trade Organization protests of the 1990s. In addition to the expected 25,000 marching in "Tax March Seattle," as many as 7,000 Black Lives Matter activists plan to come out for their own rally focusing on Trump's tax returns.
There also is a protest planned in front of Trump Plaza in West Palm Beach, Fla. The protest will move to Bingham Island, directly adjacent to the Mar-a-Lago resort where Trump is staying for the weekend. According to their Facebook page, about 1,000 are expected to attend.
While organic in nature, the marches are being organized under the umbrella of several liberal activists. The partnering labor unions and activist groups range from the well-known -- MoveOn.org and Common Cause -- to more obscure players like the Endangered Species Coalition.
http://www.foxnews.com/politics/2017/04/14/tax-day-protests-anti-tr...