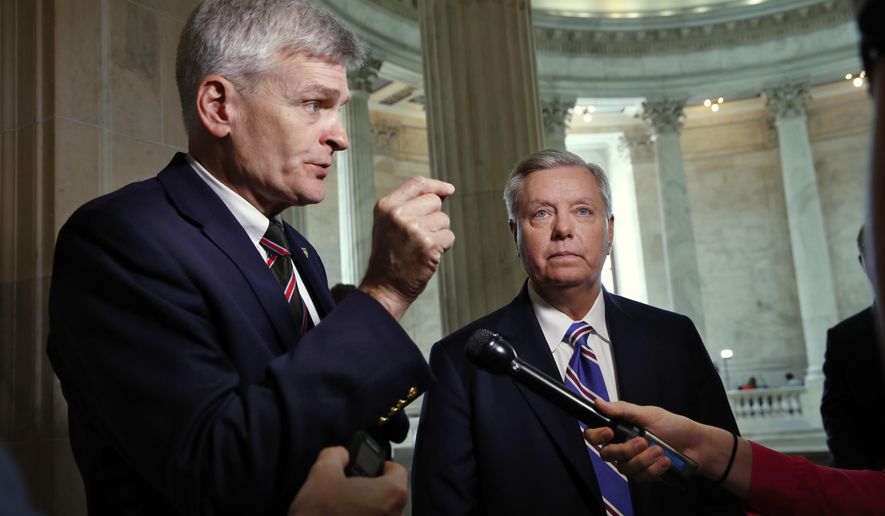 Senate Republicans pushing to replace Obamacare with state block grants are making real noise before their window to act closes, insisting they are just one or two votes shy and that President Trump can nudge their last-gasp bill to victory.
"We are thinking that we can get this done by Sept. 30," Sen. Bill Cassidy, the Louisiana Republican who co-wrote the bill with Sen. Lindsey Graham of South Carolina, said Friday.
Republican leadership seemed to greet the bill with a shrug when it was introduced last week, yet Mr. Cassidy said the idea "took off" during a Thursday luncheon that focused on health care.
The senator said his informal whip count stands at "48 or 49" Republican votes — close to the 50-vote threshold needed to pass a bill, using Vice President Mike Pence as a tie-breaker.
Senior Democrats, meanwhile, are rallying Obamacare's defenders to stamp out a revived threat to their signature law.
Senate Minority Leader Charles E. Schumer, New York Democrat, issued a "red alert" on Twitter over the weekend.
"Trumpcare is back & Senate GOP has until Sept 30 to pass their bill," he wrote. "We need your voices more than ever!"
Under the plan, Obamacare money that pays for an expansion of Medicaid and that subsidizes coverage for many of those who buy insurance on the exchanges would be pooled and instead given to states as block grants. The states would tailor the money to their own health care plans.
The bill would immediately repeal Obamacare's individual mandate requiring people to get coverage or pay a tax and its rule requiring large employers to provide coverage or face crippling penalties. It also scraps the 2010 law's tax on medical device sales.
There are "people coming out regularly and saying they're for it, either privately or publicly," Mr. Cassidy said.
But Sen. Rand Paul, Kentucky Republican, announced Friday that he is staunchly opposed to the bill, lengthening the odds of success as his party continues to struggle with its seven-year promise to scrap the Affordable Care Act.
AARP, an influential lobby for older Americans, also said it opposes the bill, enthusing Obamacare supporters.
Senate Republicans must act by the end of the month under the 2017 budget to help avoid a Democratic filibuster.
President Trump and congressional Republican leaders are still smarting over the embarrassing failure of the repeal effort in July, so many things have to go right for the new bill to pass.
For starters, its authors are still waiting for the Congressional Budget Office to analyze the plan's impact on spending and coverage and whether it saves enough money to satisfy budget rules.
Sen. Ron Johnson, Wisconsin Republican, and Sen. Dean Heller, a Nevada Republican who faces a tough re-election bid next year, have signed onto the plan. Yet Republican leaders are demanding an airtight vote count before bringing another bill to the floor.
Mr. Paul said he doesn't support the bill because it leaves 90 percent of Obamacare in place, including many of its taxes and coverage rules. He said it amounts to "Obamacare lite."
Sen. Susan M. Collins, a Maine Republican who rejected previous repeal attempts, said she has reservations about how the plan would affect her state. She wants to keep the focus on bipartisan efforts to shore up the insurance markets as they exist.
Bill sponsors aren't counting on red-state Democrats to offset Republican dissenters, though they say some might hop on board if the 52-seat Republican majority fronts at least 50 votes.
http://www.washingtontimes.com/news/2017/sep/17/obamacare-replaceme...