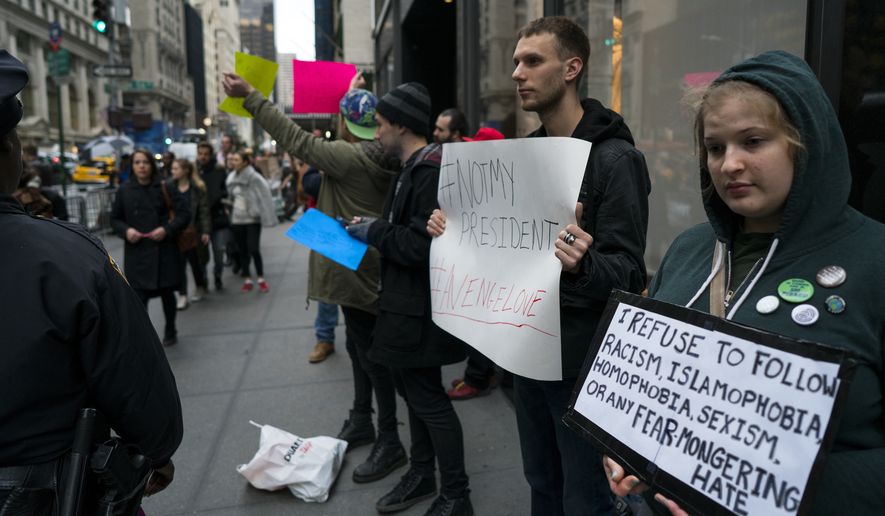 By Ben Wolfgang and S.A. Miller - The Washington Times - Wednesday, November 9, 2016
Despite bipartisan calls for healing and unity after a brutal presidential campaign, liberal activist groups vowed Wednesday to fight from the get-go to stop President-elect Donald Trump's agenda.
Democracy for America, a leading liberal political action committee and dependable advocate for the Democratic Party, called for a "progressive political revolution" to stymie what it described as Mr. Trump's racist and sexist agenda.
"So let's be absolutely clear: Democracy for America will do everything in our power to obstruct, delay and halt the attacks on people of color, women and working families that will emerge from a Trump administration," said Charles Chamberlain, the group's executive director.
"We are more convinced than ever that our country needs a massive, multiracial, multigenerational progressive political revolution led by women and people of color that is not beholden to the broken political establishment that brought us to this moment," he said. "And that's precisely what we'll work with our members and our allies to build in the days, weeks and months ahead."
Democrats, particularly those on the progressive left, for years accused Republicans of blindly obstructing virtually anything put forward by President Obama and his allies in Congress. But now, with Mr. Trump's unexpected defeat of Hillary Clinton, and with Republicans retaining control on Capitol Hill, Democrats must decide whether to pursue their own obstructionist strategy.
http://www.washingtontimes.com/news/2016/nov/9/liberal-pac-vows-to-...