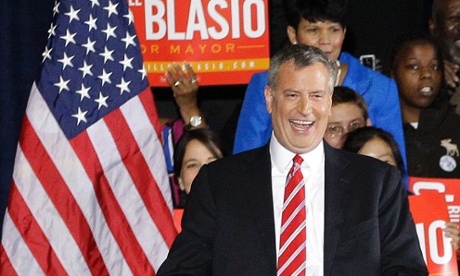 The new mayor of New York City (Bill de Blasio) was an active supporter of a brutal communist regime well known as one of the worst human rights abusers in Latin America, according to documents obtained by Judicial Watch.
It's not information likely to be featured in the mainstream media, which has largely focused on de Blasio's community organizing and work on behalf of the less fortunate. After all, he says the middle class is in danger of disappearing and he's vowed to increase taxes for the rich, create more affordable housing and end the police department's stop-and-frisk policy because it disproportionately effects minorities.
This may all sound fantastic, but there's a very dark side to New York's mayor-elect who will be sworn in with a galaxy of stars on New Year's Day, according to a local newspaper. The shindig will include a Pulitzer-Prize winning novelist, a hip-hop mogul, several 0scar-winning actresses and a leftwing activist (Harry Belafonte) who is the self-professed leader of the American socialist revolution.
De Blasio was an active supporter of the communist Sandinista regime in Nicaragua in the 1980s, according to information uncovered by Judicial Watch.
read more:
http://www.judicialwatch.org/blog/2013/12/n-y-s-new-mayor-active-su...