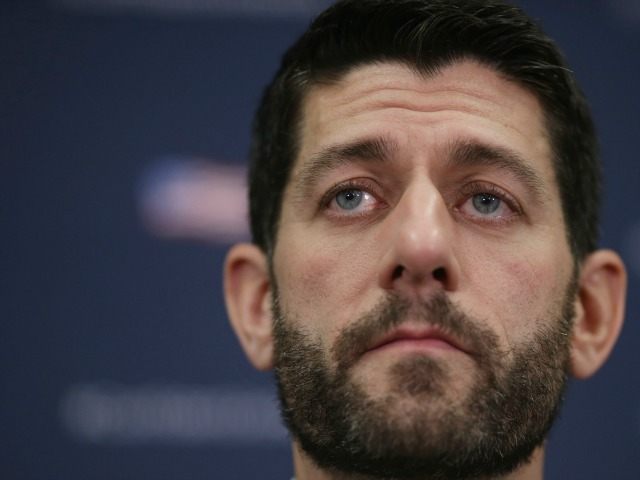 By Neil Munro11 Jan 20165
House Speaker Rep. Paul Ryan (R-WI) 56% may become the GOP establishment's 2016 candidate who can snatch the nomination or the leadership of the GOP away from pro-American populist Donald Trump, according to D.C. media chatter.
But the move — if it happens — may be too late.
Any fight between the increasingly popular Trump and the decreasingly popular Ryan would mark a last-ditch effort by the GOP's establishment-business-wing to deny any political power to its conservative voters, likely splitting the party just before the elections that will decide which party gets to control the White House and the U.S. Senate. It might also damage Ryan's long-term career plans, which are already being undermined by his unpopular policies and his complete failure in the 2016 budget negotiations, despite his support in the establishment media.
The media suggestions for Ryan suddenly appeared Sunday, Jan 10.
In a Daily Beast article about the media's desire for a political fight at the GOP convention, veteran reporter Jeff Greenfield casually suggested the GOP's establishment might sabotage Trump at the last moment by using the convention to give the nomination to Ryan, who was defeated in 2012 when he ran as the vice-president candidate with Gov. Mitt Romney.
"If party elders were to meet behind closed doors and deliver the nomination to, say, House Speaker Paul Ryan, that would qualify as a 'brokered' outcome," Greenfield wrote Jan. 10.
Tai Kopan, a writer for CNN, floated Ryan as the media-backed silver bullet against Trump during a Jan. 10 article about a weekend event that showcased Ryan's much-touted efforts to win more votes from lower-income Americans.
In rare joint appearances, six Republican presidential candidates gathered here on Saturday to talk about ways to address poverty in America, speaking to voters in the crucial early primary state and beyond about why the GOP has the best answers.
House Speaker Paul Ryan and South Carolina Sen. Tim Scott (R-SC) 88% were moderators, and they questioned former Florida Gov. Jeb Bush, Ben Carson, New Jersey Gov. Chris Christie, former Arkansas Gov. Mike Huckabee, Ohio Gov. John Kasich and Florida Sen. Marco Rubio (R-FL) 79% in small groups about how to address systemic problems at the Kemp Forum on Expanding Opportunity….