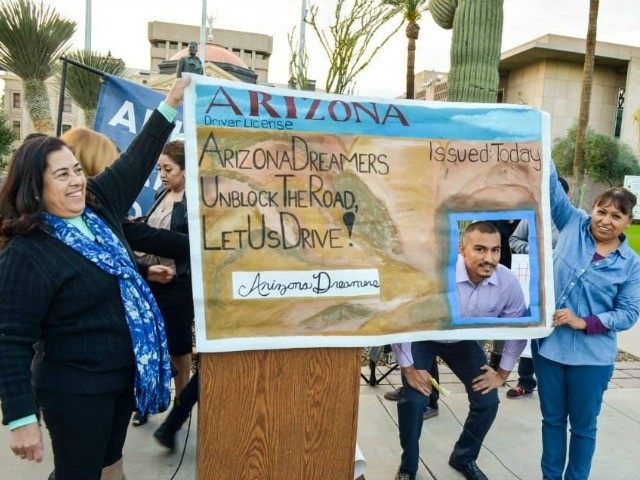 Amid the hysterical criticism of President Trump's decision to review government protections for young illegal immigrants, it is instructive to recall how the Obama administration bypassed Congress and usurped legislative powers to implement the controversial policy of Deferred Action for Childhood Arrivals, or DACA, in the first place.
In considering the fate of DACA for so-called DREAMers, Trump is not reviewing longtime U.S. immigration law, but rather a series of policies enacted by interagency memos after Congress repeatedly refused to pass the so-called DREAM Act to grant residency and rights to young illegals.
The Obama administration's decision to bypass Congress and grant what essentially amounted to de facto amnesty to young illegals via interagency directives was so radical that I included the moves in the list of potential impeachable offenses in a 2013 book titled, Impeachable Offenses: The Case for Removing Barack Obama from Office.
The work, co-authored with researcher Brenda J. Elliott, documented how Obama's guiding hand was seen in the series of memos that changed U.S. immigration enforcement policy, including toward DACA.
The Obama administration's end run around Congress to essentially halt the deportation of young illegals was enacted despite Article I, Section 8 of the United States Constitution, which expressly vests in Congress, not the executive branch, the power to "establish a uniform Rule of Naturalization." The clause has long been interpreted as specifically giving the legislative branch the power to set immigration policy.
Obama's first major change in the enforcement of existing immigration law started on June 30, 2010, in a memo written by John Morton, then assistant secretary at the Department of Homeland Security and director of U.S. Immigration and Customs Enforcement, or ICE.
Morton's directive tested the waters by setting priorities for deporting illegal aliens, with the first priority being the removal of "aliens" who posed a "danger to national security" or "serious risk to public safety."
Priority two were "recent illegal entrants" and the third priority focused on "aliens who are fugitives or otherwise obstruct immigration controls."
After facing little resistance, Morton issued another memo on August 20, 2010, this time instructing U.S. Immigration and Customs Enforcement (ICE) attorneys to exercise "prosecutorial discretion" in the "handling of removal proceedings involving aliens with applications or petitions pending" before the immigration court.
Again changing immigration law enforcement, Morton's memo outright called for ICE to consider "dismissal" in the following cases:
*The alien must be the subject of an application or petition filed with U.S. Citizenship and Immigration Services (USCIS) to include a current priority date, if required, for adjustment of status.
*The alien appears eligible for relief as a matter of law and in the exercise of discretion.
*The alien beneficiary must be statutorily eligible for adjustment of status (a waiver must be available for any ground of in admissibility).
On June 17, 2011, Morton issued a third memo, which Elliott and I opined in the 2013 book can "only be characterized as a deliberate move to bypass Congress and issue backdoor amnesty for an unknown number of illegal immigrants."
That memo called for "prosecutorial discretion" pertaining to a "broad range of discretionary enforcement decisions," including the following (all of which directly cite the memo itself):
• deciding to issue or cancel a notice of detainer;
•deciding to issue, reissue, serve, file or cancel a Notice to Appear (NTA);
• focusing enforcement resources on particular administrative violations or conduct;
• deciding whom to stop, question or arrest for an administrative violation;
• deciding whom to detain or to release on bond, supervision, personal recognizance or other condition;
• settling or dismissing a proceeding;
• granting deferred action, granting parole or staying a final order of removal;
• agreeing to voluntary departure, the withdrawal of an application for admission or other action in lieu of obtaining a formal order of removal;
• pursuing an appeal;
• executing a removal order;
"The subtext of Morton's memo was clear: Stop enforcing nearly all measures against illegals," Elliott and I wrote.
Continued here
http://www.breitbart.com/big-government/2017/09/03/obama-administra...