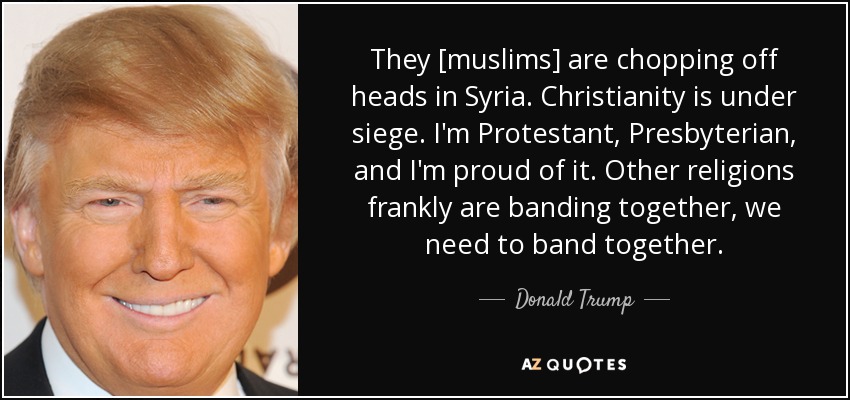 Donald Trump has just declared that the United States will be helping persecuted Christians into the country as refugees. As we read in one report:
In an exclusive interview with The Brody File, President Donald Trump says persecuted Christians will be given priority when it comes to applying for refugee status in the United States. "We are going to help them," President Trump tells CBN News. "They've been horribly treated. Do you know if you were a Christian in Syria it was impossible, at least very tough to get into the United States? If you were a Muslim you could come in, but if you were a Christian, it was almost impossible and the reason that was so unfair, everybody was persecuted in all fairness, but they were chopping off the heads of everybody but more so the Christians. And I thought it was very, very unfair."

The Brody File conducted the interview Friday morning in the Blue Room at The White House. More newsworthy clips are coming soon. The entire interview can be seen this Sunday at 11pm on Freeform (cable TV, formerly ABC Family Channel) during our special CBN News show. This is just the third interview President Trump has done from The White House and it will be the only interview that will air in its' entirety this weekend.
We truly hope that the United States will protect and rescue persecuted Christians! 15,000 Muslims were brought in to the United States last year, while only around 90 Christians were only brought in. So we truly hope that Trump will fulfill his promise.
Go to link for the ENTIRE article:
http://shoebat.com/2017/01/28/donald-trump-declares-we-will-be-help...