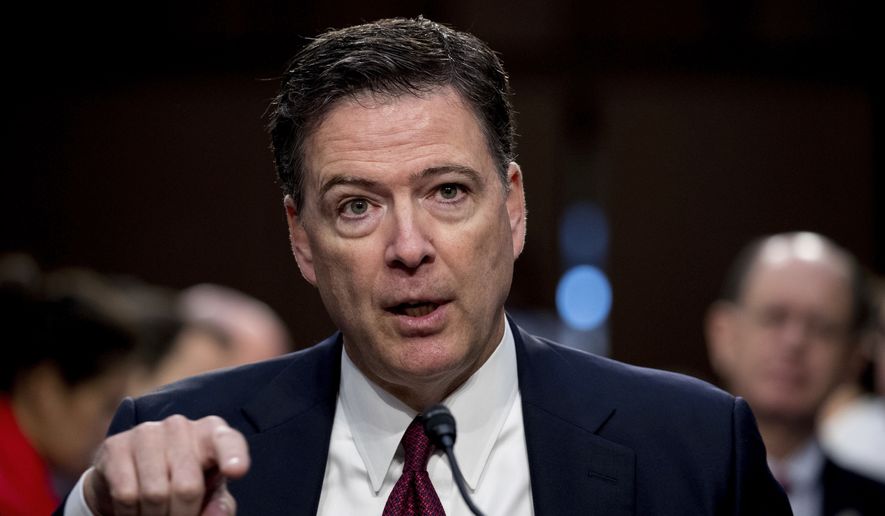 By Andrea Noble - The Washington Times - Thursday, August 31, 2017
Two Republican senators say they've reviewed evidence that indicates former FBI Director James B. Comey began drafting a statement to announce the closure of the bureau's investigation into Hillary Clinton's use of a private email server months before key witnesses, including the former Democratic presidential candidate, were interviewed.
Sen. Chuck Grassley and Sen. Lindsey Graham wrote to FBI Director Christopher Wray asking for information related to Mr. Comey's announcement, saying they've reviewed partially redacted interview transcripts that indicate Mr. Comey was drafting a statement on the closure of the case months before the July 5, 2016, announcement.
In a departure from typical federal law enforcement protocol, Mr. Comey announced that no criminal charges would be sought against Mrs. Clinton because — although she had been "extremely careless" in her handling of sensitive national security information — investigators couldn't prove that it was intentional.
The transcripts cited by the Republican lawmakers indicate that a draft statement about the conclusion of the investigation was being circulated among a select group of FBI officials as early as April 2016. The senators said that was before as many as 17 key witnesses were interviewed by the FBI. Mrs. Clinton was interviewed on July 2.
"Conclusion first, fact-gathering second — that's no way to run an investigation," the senators wrote in a letter sent Thursday to Mr. Wray. "The FBI should be held to a higher standard than that, especially in a matter of such great public interest and controversy."
The interview transcripts are from an investigation the Office of Special Counsel was conducting that looked into whether Mr. Comey's actions were a violation of the Hatch Act, which prohibits government employees from using their positions to influence an election.
The investigation was closed after President Trump fired Mr. Comey in May. But partially redacted transcripts of interviews with James Rybicki, Mr. Comey's chief of staff, and Trisha Anderson, the FBI's principal deputy general counsel of national security and cyberlaw, were turned over to to Mr. Grassley after he requested the information.
Mr. Comey announced the closure of the Clinton probe last July and publicly described why the FBI opted not to bring charges against Mrs. Clinton or any of her State Department aides. The FBI director testified before he was fired this year that he took the unusual step because he believed that a June 2016 airport tarmac meeting between Attorney General Loretta E. Lynch and Mrs. Clinton's husband, former President Bill Clinton, had undermined the Justice Department's credibility to independently investigate the case.
However the transcripts, which were so heavily redacted that lawmakers couldn't tell which transcript was from which of the two FBI employees, appear to show that Mr. Comey was trying to formulate a statement on the outcome of the investigation as early as April.
Asked about how the idea of a statement came about, the employee believed to be Mr. Rybicki responded that Mr. Comey emailed several FBI officials in the spring of 2016 "to say, you know, again knowing sort of where — knowing the direction the investigation is headed, right, what would be the most forward-leaning thing we could do, right, information that we could put out about it."
According to the transcript, Mr. Comey then "sent a draft around" of what that statement might look like.
The interview transcript believed to be with Ms. Anderson, collaborated that account.
"I'm not entirely sure exactly when the idea of the public statement um first emerged. Um it was, I just, I can't put a precise timeframe on it um but [redaction]. And then I believe it was in early May of 2016 that the Director himself wrote a draft of that statement," the transcript states.
Continued here
http://www.washingtontimes.com/news/2017/aug/31/comey-prepared-anno...