The revelation proves the mainstream media has been broadcasting disinformation to the American people regarding the reality of the migrant caravan. For weeks the media has insisted the caravans are comprised of desperate people making their way to the United States border unassisted by political operatives with an agenda.
 In reality, many of the migrants are armed, violent, and they are being illegally funded by Americans, including Beto O'Rourke and his campaign staffers, in an attempt to wreak havoc in the United States for perceived political gain just before the midterms.
 In the bombshell Project Veritas video, Beto O'Rourke campaign staffers discuss how they can illegally use campaign resources to purchase supplies and assist in the transportation of Honduran caravan migrants.
 Dominic Chacon, a Field Manager for the O'Rourke campaign in El Paso, Texas, expressed his concern in getting supplies to the caravan migrants.
"I'm going to go get some food right now, like just some stuff to drop off, cause they need food and blankets," said Chacon. "Do you know of anybody that has blankets and s**t?" We got permission to give them some of these waters, so we can take some of the waters too."
 Anapaula Themann, a field organizer for the O'Rourke campaign, insists that the purchase of supplies for the illegal aliens remain a secret in a conversation with Chacon.
"Don't ever repeat this and stuff but like if we just say that we're buying food for a campaign event, like the Halloween events, cause there's block walks coming up for Halloween," said Themann.
 Chacon responds, "That's not a horrible idea, but I didn't hear anything. Umm, we can wait until tomorrow for that."
"Well that's exactly the food we need. And I will just mark it as, I do have dozens of block walkers," said Themann.
 Later in the video, Themann explains to Chacon that certain stores don't show the types of food being purchased.
"There's actually stores that just mark it as 'food' they don't mark different types," said Themann. "At Albertsons, on the receipts, it marks it just based off of brand. So you don't know what kind of food it is."
Chacon then insists that pre-paid campaign cards can be used to purchase the food.
"I think we can use that with those cards to buy some food, all that s**t can be totally masked like, oh we just wanted a healthy breakfast!"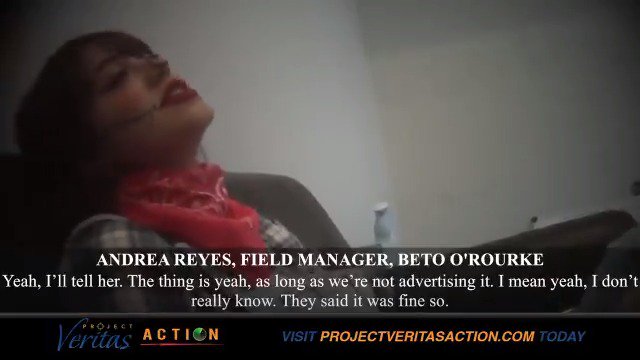 Breitbart report: When going to distribute the purchased supplies, Themann says she does not "want to make it seem like all of us are from [the O'Rourke campaign]." She adds, "I just hope nobody that's the wrong person finds out about this."
 Jody Casey, the campaign manager for the O'Rourke campaign, sent a text message expressing how pleased she was that the campaign was assisting the migrants, according to Chacon.
"[Jody] texted us afterward and was like, I'm so happy that we have a staff that gets it and was there, I was so happy to see y'all there, still working, still contributing, we have the best team ever… she was good about it," Chacon explained.
 Chacon also stated in the video that Jody "doesn't need to know" that pre-paid cards were used to purchase the supplies.
 Chacon also mentioned using vans to transport the Honduran migrants as well.
"I was gonna use to vans too…we could probably use that, get away with using the vans," said Chacon.
"Nobody needs to know," Chacon added.
"… we're going to give rides to some of the immigrants too," said Chacon. "Like to the airport, to the bus station, like why not, you know?"
 This is the eighth release in a series of James O'Keefe and Project Veritas videos. Other videos exposed the Andrew Gillum campaign in Florida and the Claire McCaskill campaign in Missouri.
https://newspunch.com/beto-orourke-illegally-using-campaign-funds-t...